Fishing the Rivers in Montana

Sponsored Link
The Montana Dry Fly Experience
From first time anglers to experienced trout chasers A Classic Journey Outfitters offers professional guided fishing packages for all levels of anglers on the best waters in Montana. Outfitter # 9438.
---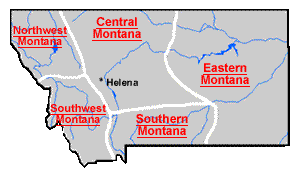 To begin exploring the many Montana fly fishing and floating options, simply click on a region of the state to the right or jump to a specific river by using the menus on the left or the category items listed on the bottom of this page.
Fly fishing for wild trout in a mountain river among beautiful scenery is the dream of many anglers. In Montana, that fly fishing dream can become a reality. Montana offers superb fly fishing for wild trout in dozens of beautiful rivers and countless alpine lakes. The scenery is spectacular, and while some waters are quite popular, fishing pressure on most of the rivers and lakes in Montana can be surprisingly low.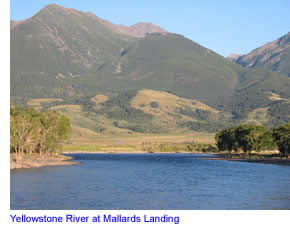 Unique among other western trout waters, Montana manages most of its rivers for wild trout; meaning hatchery born fish are not introduced into these rivers. Instead, protection of habitat along with catch and release restrictions are used to enhance fishing.
The result is that an angler who seeks to fly fish for wild trout cannot choose a better place to fish than Montana. Excellent fly fishing, beautiful scenery, along with many other outdoor recreational activities, makes a fishing trip to Montana like no other.
Our river fishing section provides detailed information about more than 40 rivers in Montana, from the popular Madison River to the frequently forgotten rivers like the Marias River and the Flathead River.
Information covered for each river includes:
Overview of each river
Detailed fly fishing information, including types of fish in the river, fly selection, various techniques used to successfully catch fish, all broken down by river segments.
Floating information for each river.
Photo Gallery for each river, allowing an angler to "see" the river before visiting.
We hope that you find the information contained in this site helpful for planning a Montana fly fishing trip. It is worth mentioning that this site is not meant to be a replacement for the many fine fishing books that have been published about Montana fly fishing. We strongly urge any angler who will be visiting Montana to fly fish in its many fine rivers to consider purchasing a fishing guidebook or enlisting the services of a licensed guide. The rivers in Montana are incredibly diverse, and change on an almost daily basis. An up-to-date guidebook or licensed fly fishing guide who is intimately familiar with their waters can make all the difference between success and failure.
---
---
---
---
The rivers of Eastern Montana are quite the distance from the mountains...thus limiting their trout fishing. However, while the trout fishing is poor, rivers such as the lower Yellowstone have numerous warm-water species that provide countless angling opportunities.

Explore the Rivers of Eastern Montana
---

Montana Fishing Guides - Listings of some licensed fishing guides in Montana.