Just to avoid confusion, the Rock Creek located in southern Montana is not the same Rock Creek as is found in the western part of the state (and which is far more popular among anglers and has much better fishing). The two rivers may share the same name, but are entirely different in landscape and fishing. More information about Rock Creek in Southwest Montana.
This Rock Creek begins high in the mountains of the Absaroka-Beartooth Wilderness and flows for more than 55 miles to the confluence with the Clarks Fork of the Yellowstone River. It flows through a very diverse landscape. Huge mountains and thick forests dominate the upper 15 miles of the river.
Rock Creek then leaves the mountains behind at the town of Red Lodge, Montana, and enters a beautiful rolling, prairie landscape that lasts until the rivers end. Throughout its prairie section, Rock Creek has thick cottonwood trees and brush lining its banks and has rocks everywhere. It also splits into a number of channels, most of which run dry later in the summer.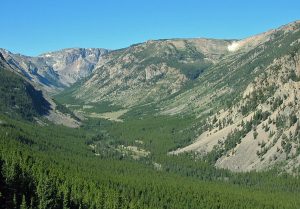 The water in Rock Creek is crystal clear except during spring run-off. It is also quite cool, reflecting the rivers origin high in the mountains and the fact that its primary tributaries consist of high alpine creeks and streams.
The mountain section of Rock Creek, above Red Lodge, is home to lots of small cutthroat and brook trout. They are easy to catch on virtually any dry fly with a half way decent presentation. The fish are small but feisty and are fun to catch.
And of course the scenic backdrop is just incredible. Fishing pressure is very light on the upper section of Rock Creek. While the vehicle traffic can be incredible at times on the roads that loosely follow Rock Creek, virtually all of it consists of vehicles going up and over Beartooth Pass on their way to/from Yellowstone National Park, which lies about 80 miles away.
Downstream from Red Lodge, decent fly fishing for both rainbow and brown trout can be found, with the best brown trout fishing found in the lower half. This section of Rock Creek is an excellent place for a dry fly fisherman who lacks a boat to float other major Montana rivers. Once spring run-off ends, the river is fairly narrow (but just wide enough to allow for easy casting) in this section, and the extensive gravel provides easy shoreline walking once spring run-off ends and the river levels drop. Except in the holes, the river is also fairly shallow, providing ample places for the wade angler to cross the river.
Wading boots are quite helpful to avoid broken legs and ankles when fly fishing. Read this guide for information on how to select the right type of boot for your needs.
Dry flies work just as well on this section of Rock Creek as they do further upstream. Fishing pressure is quite light, and the rainbow trout rise readily to a fairly well presented dry fly imitation. PMD imitations and the Parachute Adams are excellent dry flies for this river.
When chasing after the larger brown trout on Rock Creek, streamers are effective, especially in the fall when the fish move out of their protective cover. Fish the streamers around the many downfalls that are found in the river, in holes and around the undercut banks that are found.
Access to Rock Creek above Red Lodge is easy. Just upstream from Red Lodge the Rock Creek passes through public lands, with roads of one variety or another closely following it. To gain access, just park anywhere and take a short walk through the woods.
Below Red Lodge, access to Rock Creek is limited as it flows through private lands. Happily, several good fishing access sites exist, and several bridge crossings provide additional access points. It should be noted that the mountain section of Rock Creek can be "over-run" with recreational campers on Fridays and Saturdays during the summer. Hordes of people, generally from nearby Billings, head to the mountains on the weekends. In other words, don't expect pristine solitude on the weekends.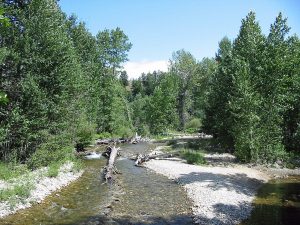 Float fishing the Rock Creek is not recommended. The river has to many twists and turns, downfall and is too narrow to allow productive float fishing. Anyone float fishing will spend most of their time maneuvering their boat around corners and obstructions instead of fishing. Later in the summer, Rock Creek generally becomes unfloatable in some sections due to low water. Rock Creek, like its counterpart to the west, is best wade fished.
This is not to say floating can't be done. During higher flows, such as soon after spring run-off ends, the river is floatable from Red Lodge to the Clarks Fork of the Yellowstone. And it is a scenic float. Just be aware of significant downfall and other obstructions. The river also splits into many channels, some of which have significant obstructions or are very shallow. Selecting the right channel is crucial to floating this little river. Fall, assuming rain adds some flows to the river, also provides a fine time for floating, all the more so since the colors of the trees and brush along the river make for a beautiful setting.
Rock Creek : River Miles
Listed below are selected river miles for Rock Creek. Visit the Montana FWP website for specific information about a selection fishing access sites (FAS).
Origin: 0
Red Lodge: 28
Water Birch Fishing Access Site (FAS): 29.6
Bull Springs FAS: 32.4
Beaver Lodge FAS: 33.7
Horse Thief Station FAS: 36
Highway 212 Bridge Crossing: 39
Cooney Dam Road Bridge Crossing (Boyd): 44
Highway 212 Bridge Crossing (Joliet): 48
Highway 310 Bridge Crossing (Rockvale): 54
Confluence with Clarks Fork Yellowstone: 56
Photographs of Rock Creek in Southern Montana
Related Articles on Big Sky Fishing.Com