Anyone that's spent a cold night in a tent shivering the night away has firsthand experience in understanding the importance of a sleeping bag. Indeed, a sleeping bag is one of the most important pieces of camping gear you'll ever buy.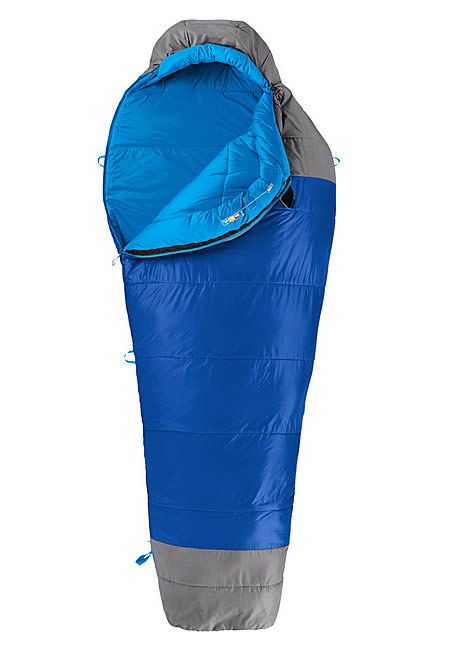 A North Face three-season synthetic sleeping bag. These bags are the ideal "summer camping bag" and provide the most versatility. See similar bags at Amazon
While cold nights are often the rule in the Western US, cold nights are prevalent in Montana. Montana is notorious for summer weather that consists of warm, sunny days and downright chilly nights.
This is especially true in higher elevation valleys (such as Yellowstone or the Big Hole Valley), where there is often fifty degrees in temperature change between daytime highs and nighttime lows.
Because of its importance, I prepared this detailed buyer's guide about sleeping bags.
This guide should help anyone is in search of sleeping bag for camping or backpacking.
My hope is this guide will help campers avoid long, cold, sleepless nights by purchasing the right sleeping bag for their own particular camping needs.
This article covers the following topics:
Related articles about sleeping bags that visitors may wish to read
---
Quick Summary
For Winter Camping - Get a goose down sleeping bag with a temperature rating of at least -20° Fahrenheit, but -40° provides a much larger margin of safety due to changing weather conditions.
For Summer Camping - Unless you know you'll always be able to keep a sleeping bag dry, buy a synthetic sleeping bag. Synthetic bags dry fast and don't lose all insulating ability when wet.
Temperature Ratings - For summer camping in Montana and most mountainous areas of the USA, purchase a bag with a rating of at least 20° Fahrenheit. For camping in very warm climates, bags rated to 30-40 degrees work well.
For Bike Camping - Because of their lightweight and compressibility, goose down bags are ideal. Just be sure to buy a waterproof storage bag.
Synthetic v. Goose Down Insulation - Synthetic insulation is ideal for most summer camping, as the bags dry fast and don't lose insulating ability when wet. Goose down provides the most warmth for the lightest weight, and is a fine choice if the camper knows, for certain, they can keep their bag dry.
What Temperature Rating to Choose - When deciding how warm of a sleeping bag is needed, a good "rule of thumb" is to take the bags advertised temperature rating and then add 10-15 degrees to it. Thus, a bag rated to 20° degrees will keep you warm in temperatures of 30-35° degrees.
Where to Buy - Quality online retailers such as Amazon, REI, Eastern Mountain Sports and Moosejaw are all excellent places to shop for a sleeping bag. If you have no idea what brand of sleeping bag to get, my suggestion is to start at REI, due to their well-organized website and the detailed technical information they provide about each sleeping bag.
---
The Three Types of Sleeping Bags
In the world of sleeping bags, there are three primary types of bags.
The Winter Sleeping Bag
Winter sleeping bags are available in two varieties—bags with temperature ratings of 0° degrees and those with temperature ratings of -20° or -40° degrees (and occasionally more). For pure winter camping, a person should get a bag with a temperature rating of at least -20° degrees Fahrenheit. And if you camp during the winter in the Northern US or in high-altitude mountainous terrain, a -40° degrees bag is essential.
By having a warm sleeping bag for winter camping, a person reduces the possibility of a sudden weather turn impacting a camping trip or threatening safety.
In short, it is always better to have a sleeping bag that is a "bit too warm" than a "bit too cold." More information about sleeping bag temperature ratings.
For winter camping, by far the most popular—and effective—sleeping bag insulation type is goose down. Goose down insulation provides excellent warmth with good compressibility, allowing for easier packing. Unlike summer camping, in winter camping there's little threat of a sleeping bag becoming soaked (and thus useless) with water. More information about sleeping bag insulation.
Winter sleeping bags aren't inexpensive. Indeed, they are very expensive. The much higher cost arises because of the bags construction. In particular, copious amounts of premium goose down is used to fill quality winter sleeping bags. Compared with synthetic insulation, goose down is significantly more expensive and greatly adds to the bags cost.
Despite the extra cost, anyone planning to winter camp should spend whatever necessary to buy a quality bag. By using a quality winter sleeping bag, the odds increase of having an enjoyable—and safe—winter camping trip.
---
Three Season Sleeping Bags
The three-season sleeping bag is the "workhorse" bag. It's the most popular bag and has the most versatility. Because of their popularity, three-season bags vary in quality, from miserable to outstanding. Fortunately, the "outstanding" bags frequently cost little more than a cheap big-box store brand. In general, a quality synthetic fill three-season bag costs between $125-$250 and a goose down bag costs between $200-$350 (learn more about Sleeping Bag Insulation).
For all-purpose three season use, I suggest a sleeping bag rated to 15-20° degrees above zero. For maximum versatility, a bag with synthetic insulation is always best. The reason is because synthetic bags dry quickly and don't lose all insulating ability if they get wet. In stark contrast, a goose down bag is useless once wet and can take significant time to dry.
Still, if there are no worries about the bag becoming wet and you strive for maximum packability and lightweight, then a quality goose down bag is for you. Just always take precautions to keep the bag dry, ideally by stuffing it inside a waterproof stuff sack.
View Waterproof Stuff Sacks at Amazon
---
Lightweight Sleeping Bags
Lightweight sleeping bags are ideal biking bags. They also work fine for camping and overnight backpacking in the lower elevations of the desert Southwest and other warm weather climates.
Lightweight sleeping bags, as their name suggests, are designed for lightweight and maximum compressibility. In theory, most lightweight bags have a temperature rating between 32-40 degrees. However, this is often a bit charitable. A good rule of thumb is that most lightweight bags work well to 45 degrees, on average.
To achieve the most compression and lightest weight, most quality lightweight sleeping bags use goose down insulation. This is one reason why ultra-light sleeping bags often cost more than warmer, synthetic sleeping bags.
Because of their temperature rating, lightweight bags are a terrible choice for mountain camping. And for Montana, lightweight bags have little utility except during abnormally hot weather (which lead to warm nights).
Still, for those forced to use lightweight bags in chillier weather (such as bikers passing through a mountain area), there are ways to extend the bags temperature rating. Sleeping bag liners can add an extra ten degrees to a bags temperature rating. Additionally, the camper can also wear a fleece hat and lightweight fleece clothing while sleeping (never wear cotton). A thicker sleeping pad also can add additional warmth, too. Finally, travel sheets or a fleece blanket can extend a bags temperature rating.
Since the best lightweight bags use goose down insulation, campers should always use a waterproof stuff sack to keep the bag dry.
---
The Importance of the Sleeping Pad
Using a sleeping pad is vital to stay warm (and comfortable) while camping. This applies equally to warm and cold weather camping, too.
In another article on this website, I've outlined the many reasons why a sleeping pad is so important and the different types of sleeping pads available (Read the Guide to Sleeping Pads).
But for a quick summary, the reason sleeping pads are so important is because the sleeping pad prevents you from sleeping on the ground. No matter how fancy or expensive a sleeping bag is, when someone sleeps in it the person's weight collapses the insulation of the sleeping bag beneath the person. The result is that the sleeping bag beneath the sleeper has no insulation whatsoever.
Thus, without a sleeping pad, a person is essentially sleeping on the ground. The result is that even in warm weather the person is cold all night long.
For campers, what this means is that everyone needs a quality sleeping pad to provide insulation between the ground and the camper. The colder the weather, the thicker the sleeping pad must be.
Sleeping pads come in three thicknesses : ultralight, midweight and "luxury weight." For summer camping in Montana and most other areas in the USA, any thickness of pad works for insulation. However, luxury and midweight pads are much more comfortable than ultralight pads.
If you're unsure how thick of a pad to get, here's a rough guide:
For car camping, get a luxury sleeping pad.
For backpacking, get a ultralight pad.
For both car camping and backpacking, and you can only afford one pad, then get a midweight pad.
---
Sleeping Bag Insulation, Temperature Ratings & Care
In three separate articles on this website, detailed information is provided about sleeping bag insulation, temperature ratings and how to care for a sleeping bag.
However, for those without time to read through these three articles, here's a quick summary.
---
Sleeping Bag Insulation
Sleeping bags are available with either goose down or synthetic insulation. In terms of "weight to bulk," goose down provides the most warmth with the least bulk. However, goose down also loses all insulating ability when wet and can take significant time to dry (often requiring the help of a dryer).
In contrast, bags with synthetic insulation are simple to clean, dry quickly and provide the most versatility. In particular, synthetic insulation bags are the best type of bag to use for hiking or camping in wet weather and for float trips. Sleeping bags with synthetic insulation also tend to cost less than goose down sleeping bags, too.
Read the Full Article about Sleeping Bag Insulation
---
Sleeping Bag Temperature Ratings
So what is a sleeping bag temperature rating? A sleeping bag temperature rating is the "best guess" of the manufacturer as to how warm the bag is for the "average person." The methods used, and all the variables that effect, a sleeping bags temperature rating is detailed in the article How to Understand Sleeping Bag Temperature Ratings.
When shopping for a sleeping bag, a simple "rule of thumb" is to add 10-15° degrees to the actual temperature rating. What this means is that if you buy a sleeping bag that is rated to 20° degrees, you should assume the bag only works to temperatures of 30-35° degrees.
While this rule of thumb isn't applicable to everyone, or every sleeping bag, it is still a good rule to follow. The reason this is a good rule is because a sleeping bag that is a "bit too warm" is easy to cool off (just unzip the bag a bit). In contrast, there's nothing you can effectively do to warm a sleeping bag that is simply "too cold."
Read the Full Article on Sleeping Bag Temperature Ratings
---
How to Care for a Sleeping Bag
Cleaning and caring for a sleeping bag is fairly simple. The article on How to Care for and Clean a Sleeping Bag on this site provides detailed information on this topic, but here's a quick summary.
Never store a wet sleeping bag. Always make sure it is dry before storing it.
For goose down bags, never store it in a stuff sack. Store it in a larger bag, such as a laundry bag. Synthetic bags are more forgiving, and can be stored - at least for a while - inside a stuff sack. But synthetic sleeping bags are still best stored in larger bags to prevent insulation compression.
If you need to wash your sleeping bag, use a front-load washing machine, with little soap and cold water. Tumble dry low.
Never dry clean a sleeping bag, especially a bag filled with goose down.
Read the Full Article on How to Care for and Clean a Sleeping Bag
---
Which Sleeping Bag to Choose
Which sleeping bag you choose depends entirely on what type of camping you do. But below are some suggestions to follow:
For general three-season camping in the mountains of the Western US, most people will want a synthetic sleeping bag with a temperature rating of 20 degrees, or less. Synthetic bags provide simpler cleaning and don't become useless when wet.
For ultralight backpacking and other activities where every ounce and cubic inch matters, get a three-season goose down sleeping bag (rated to 20 degrees or less) and a waterproof stuff sack.
Lightweight sleeping bags are ideal for bikers and anyone who camps in warm weather climates where chilly nights are infrequent to non-existent.
For winter camping, there's only one choice. Buy a high-quality goose down sleeping bag with a temperature rating of at least -20 degrees. For those winter camping in the Northern US or the mountains, get a -40 degree bag for both comfort and safety reasons.
---
Shopping Considerations
While not the fanciest pieces of equipment, there's still a number of considerations anyone shopping for sleeping bags should consider.
The Big Choice - Down or Synthetic?
The choice between a down or synthetic bag is, other than the temperature rating, the largest decision a person has to make when buying a sleeping bag. There is no "one right answer" on which type of insulation to get. But, as a general rule, I find synthetic bags are more versatile since they don't lose all insulation if they get wet. Synthetic bags are ideal for camping in wet climates or for taking on float trips. Still, if weight and compressibility are the top issues, nothing beats a quality goose down sleeping bag.
What Temperature Rating to Get
For general summer camping in Montana, get a three season sleeping bag rated down to 20° degrees or less. For camping in areas outside of Montana, get a bag that provides about 15-20° degrees of "extra insulating ability" beyond what is typically needed where you'll be camping. Just remember, it is always better to have a bag that is a "bit too warm" than "not warm enough."
Color
The color of a bag is a total personal choice and has no meaningful effect on the bags temperature rating or comfort. So get what works well for your own particular tastes.
Right Zip or Left Zip?
Which side a sleeping bag zips up on is, again, a personal preference. There is no industry standard about whether a bag is right-zip or left-zip. Indeed, even among bags made by the same manufacturer I've found bags that are right-zip and left-zip.
If you have a particular choice about which side the sleeping bag zipper is on, be sure to read the technical information for the bag. Quality outdoor retailers such as Campsaver.Com, Moosejaw and REI all list which side the zipper is on in the detailed specifications.
Water Resistance
Many sleeping bags, especially those with goose down insulation, are now available with water resistant fabrics on the outer shell. While water resistant sleeping bags are more expensive than bags lacking water resistance, it is money well spent. Remember, goose down sleeping bags lose all insulation when wet. Thus, it is imperative to keep the bag dry at all times. A water resistant shell provides much needed protection.
---
Where to Buy Quality Sleeping Bags
Let's start with where not to buy them. Avoid buying sleeping bags from Wal-Mart and similar type big box stores. While those bags are fine for sleepovers and for kids tossing a tent in the backyard, if you plan to camp in the mountains big box store bags are a recipe for long, unpleasant nights.
Offline, quality sleeping bags are widely available at outdoor sporting good stores that sell quality, technical gear. In particular, REI, Moosejaw and Eastern Mountain Sports sell an extensive line of quality sleeping bags.
Online, there's almost too many places that sell sleeping bags - making it difficult on figuring out where to start shopping for one.
So let me make a suggestion. Begin shopping for a sleeping bag at REI. The reason REI is an excellent place to shop for a bag is because of how bags are sorted and listed. At REI, it is easy to find/compare various synthetic/down sleeping bags at specific temperature ratings. Moreover, they provide detailed technical information about each bag - something that is sometimes missing at other online stores. Finally, REI probably has the largest selection of quality sleeping bags available online.
View Sleeping Bags Available at REI
Other good online stores to buy sleeping bags from include:
---
Good Brands of Sleeping Bags
There's a multitude of different brands of sleping bags available. So many, in fact, it is sometimes difficult to choose among them. So to help people narrow the list, I'll suggest the following brands.
If in doubt about which brand to go with, I'll suggest bags from The North Face. North Face bags are what I have used for years and have never had any complaints. Their bags are durable, functional and relatively inexpensive (compared to some other brands).
View sleeping bags by quality manufacturers at Amazon.
There are ther good brands of sleeping bags available. These are just the brands I know, have used or am familiar with. But this list is a good starting point when shopping among the multitude of sleeping bag brands available.
---
Hiking & Camping Gear on Sale