Family Camping/Cabin Tents/Dome Tents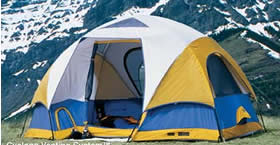 A typical large dome tent, tall enough to stand up in but not so big it takes forever to setup
If you plan on staying in a campground for any length of time that can be "driven to" (instead of packed to), then a family camping tent - also known as a cabin tent or large dome tent - is the tent for you. Unlike your typical backpacking tent, family camping tents are big, roomy and spacious. Some even have multiple rooms, allowing for some privacy.
Your typical cabin/large dome tent has come a very long ways from the way they were years ago. Todays family camping tents are generally very easy to setup, and surprisingly, rather light and packable. While far too heavy for backpacking, cabin tents today no longer require two strong men and a small boy to move and setup.
If you plan on going the cabin/large dome tent route for your camping needs, I highly suggest getting a tent that is both tall enough to stand in and big enough to allow for a cot. The reason for this is both for general comfort as well as to allow for "some room" during times of rain or foul weather. When you are confined in a tent due to nasty weather, the ability to stand up inside the tent is a very, very big plus.
In the event you're wondering, one difference between a "true cabin tent" and a "large dome tent" is that few dome tents have multiple rooms. Large dome tents are essentially "one big room." On the flip side, however, larger dome tents generally are much easier and quicker to erect than your typical "cabin tent" is.
Shown below are some tents that work well for longer term camping. All the tents are quite large and very roomy - yet setup relatively quick and easy. All these tents are available through Backcountry.Com
---
Copyright 2002-2012


Big Sky Fishing.Com