Starting a Home Based Web Business

Starting your own Home Based Internet Business is without question the best way to create a work at home business opportunity. The financial cost to develop an Internet Home Based Business is virtually nothing since you can do all the work yourself. Even people who are lacking in technical computer skills can fully develop their own profitable Home Based Internet Business in a relatively short time using sophisticated but easy to use software programs such as Site Build It.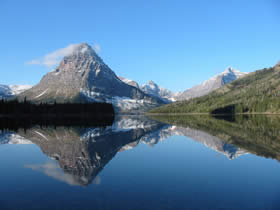 I developed bigskyfishing.com so I can spend time in places like this (Glacier Park) whenever I want, instead of being forced to work for others.
Photo Use Guidelines
A Home Based Internet Business is ideal both for people searching for a way to make a full time living as well as for individuals seeking to earn a supplemental income. For individuals who are retired, launching a home based business is a perfect way to generate a supplemental income while having fun and exploring areas of interest, all at the same time.
A home based internet business offers many things for the individual who is serious about starting their own business. First off, it costs basically nothing to start. Other than the cost of a domain name and web hosting (less than 20 dollars a month), running a home based internet business is essentially free. Thus, if you have a computer and twenty bucks a month to spare for web hosting, you have all the equipment needed to start your own Internet home based business. You can even avoid the web hosting and domain name fees by using Site Build It.
What an home based internet business does require is time and effort. Developing a Internet home business requires little in the way of money but does require time and effort on the part of the web publisher (a web publisher is anyone who publishes content on a web page - bigskyfishing.com is a web publisher) to create quality content and a quality web site.
This guide to starting a home based internet business, which has been prepared by myself (the owner/founder of bigskyfishing.com), will help you get started in deciding whether such a home based internet business is right for you and, if so, how to start developing it. This guide is down-to-earth - you will not find any fluff or high-flung statements - since all of this information comes from my own experiences in developing Big Sky Fishing.
So, let's move on to talk about exactly what a Home Web Business is.
Next Page : What is a Home Based Web Business
---
Site Build It - What is it? It's a software program created by Site Sell that takes all the technical aspects out of creating your web site and finding the right niche. It's specifically designed for web publishing AND for people who have not the first clue on how to go about starting. I've also created a special page on this site that covers Site Build It in more detail. Learn More About Site Build It.
---
Copyright 2002-2008
Big Sky Fishing.Com
---