Selecting Merchant Partners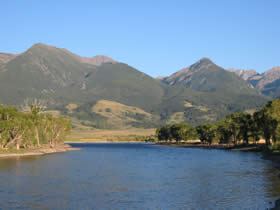 Big Sky Fishing is built around providing content about fishing in Montana. Part of the fun of creating this website was incorporating merchant products into the site.
Photo Use Guidelines
One of the most enjoyable aspects of building a home based web business around a content site (such as bigskyfishing.com) is shopping for merchant partners and then coming up with creative ways to incorporate their products and services into your web site. In many respects, this process can allow you to make a "store of your dreams" without having to invest a single penny in merchandise, a storefront, hired help and all the other costs that go with running a retail operation.
You can see this at bigskyfishing.com. I've always wanted to have my own outdoor camping and fishing gear store - ever since I was a little kid, in fact. To create such a store in the bricks and mortar world would require easily more than a million dollars to start, and would have massive ongoing costs associated with running such an operation.
And that is the beauty of a home based web business. You can choose what products to promote on your site, incorporating them however you want into you web site, without any cost to yourself (or risk, for that matter). And my love of outdoor and fishing gear can be seen throughout bigskyfishing.com, with the numerous individual product listings and stores such as the Fly Shop that provides a comprehensive listing of fly fishing gear.
The Internet is filled with merchants that have quality affiliate programs. The key word here is quality. When shopping around for merchant partners, several things need to be kept in mind. These are:
Return Days - Does a merchant offer return days? A return day is how many days after the initial click through by a visitor from your site to a merchants site that you can still receive credit for a sale. Thus, our affiliation with Backcountry Store allows bigskyfishing.com to receive credit for any online sales of Big Sky Fishing visitors who click through from our site to Backcountry Store for a period of 120 days after the initial visit. This tracking is accomplished by the setting of cookies on the users machine. Generally, the longer the "cookie duration" or number of return days the merchant offers, the better.


Merchants Web Site - It is imperative that the merchants have a quality web site that will lead to sales. If the merchants web site is always down or does not inspire confidence to visitors, then sales from that merchant will be very low to non-existent. My main test when I evaluate a merchant web site is whether or not I would buy from them. If the answer is yes, then I consider their program. If the answer is no, I find another merchant to partner with.


Product Linking - The ability for an affiliate (you) to link directly to individual products on a merchant web site is critical. Repeat - critical. It is a well-proven fact that web surfers click on individual product and text links far more often then generic banner ads. If a merchant does not offer the ability to link directly to products, then you will be limited to promoting the merchant in banner ads - which are far, far less effective.


Commitment of Merchant - Many merchants utilize affiliate programs not as a way to gain sales partners for the long term but instead to find a quick and easy way to create name recognition. Generally, these programs are quickly identified by a lack of return days. Another way to recognize these programs is how they are managed. If the merchant does not respond to your emails, then you likely have a sub-par merchant that is not worth the bother to partner with.


Merchants Products in Relation to your Home Based Web Business - It goes without saying that what the merchant sells must relate in at least a loose way to the visitors that your web site will receive. Attempting to sell perfume on a web site that covers hunting is not likely to succeed very well. Instead, for your primary merchants, pick only merchants that fit in closely with your overall theme of your web site.
Now that you know what to look for, and what not to look for, in selecting merchant partners for you home based web business, the next step is to find them. Merchants, broadly speaking, run their affiliate programs in one of two ways. They either do it themselves (private affiliate programs) or they hire out an affiliate network to manage things for them. Each of these methods have their pluses and minuses, although the sheer number of programs offered by the affiliate networks makes shopping around for merchant partners much easier. Listed below are links to affiliate networks as well as some private programs.
---
Major Affiliate Networks
Private Programs
Art.Com and Allposters.Com - For Posters and Art Prints
Amazon.Com - Books and Everything Else
Google Adsense - Get paid by the click, not by the sale
Next Page : Summary
---
Copyright
Big Sky Fishing.Com
---