Time Requirements for a Web Business

A Web Based Home Business is a business that you create by publishing content on a web page. The content that you publish on the web page is then used to sell products or services that are related to the content of your web site.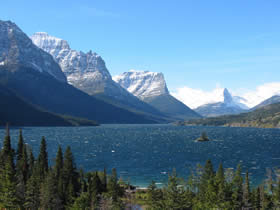 I created bigskyfishing.com so that I could work for myself by spending time in places like this (St. Mary Lake in Glacier National Park). Lots of work, but worth the effort.
Photo Use Guidelines
The first step to starting an Home Based Internet Business is to make sure you are willing to spend the time to develop it. While a home based Internet business is essentially free to start, doing it right does take some time and effort on the part of the web publisher (you).
So how much time do you need to start your own home based Internet business? It depends, really. The time requirement will be based on what you want to create a web site about (discussed later) and how large of a web site you plan on creating (also discussed later).
That all said a person should concentrate on spending at least 10 hours a week developing their home based business. 10 hours a week will be sufficient for smaller sites. If you want to develop a large topic, sprawling site like bigskyfishing.com, plan on spending lots more. Developing bigskyfishing.com took more than 6 months for the first stage of completion (during spring/summer/fall of 2002) and required working well in excess of 40 hours per week. As of August 2008, bigskyfishing.com spans more than 4000 pages! For first time web publishers who want to start their own Internet home business, diving off and developing a site similar to bigskyfishing.com is likely to lead to frustration and is not recommended. This is advice learned the hard way!
Having a topic of interest for your web site is CRITICAL. If you plan on creating a web site about something, trust me, if you are not interested in the topic, one of two things will happen. The website will be terrible or you will never finish it. I've been down both roads, so I talk from experience.
Want my advice? For someone new to web publishing and who is serious about starting a home based Internet business of their own, start small and then work up. Design a web site that can be easily expanded on (discussed later). By starting small, you will see the results of your efforts faster and will start making some money more quickly - not a huge amount to be sure, but nothing wrong with making a couple of hundred dollars a month from a small web site. Then, if your still interested in expanding your home based Internet business, you can go from there.
Why I Suggest This : If you start with a huge web site, the site and topic will likely seem overwhelming...just trying to figure out where to start will be difficult. I've had two friends "bail" on web publishing because they started with a site topic greater in scope than Big Sky Fishing (and my site spans over 4000 pages!). Small is better to start. Then expand as time and need allows.
The first step in starting an home based Internet business is pretty simple but yet crucial. But if you can spare 10 hours per week to working on your own Internet home based business, then it is time to go on to the next step - Who is a Home Based Internet Opportunity For.
Next Page : Who Is a Internet Home Business For?
---
Copyright
Big Sky Fishing.Com
---