Floating the Missouri River is a very popular activity during the summer. With it's steady flows and splendid fishing, not to mention the attractive scenery, the river fills up with boat recreational floaters and float anglers whenever the days are warm.
Article Menu Quick Links
---
Floating Overview
Long, multiday floats on the upper portion of the Missouri River are difficult due to the many dams and reservoirs. Once below the dams at Great Falls, the river runs free for the next two hundred miles before spilling into Fort Peck Lake and is where most multiday float trips occur.
For the twenty-three miles between its origin at Three Forks and Totson Dam, the river flows rather lazily. High winds are common, and cause challenges for floaters in larger rafts. Floaters will have to portage Totson Dam.
Below Totson Dam, another twenty-two miles of moderate slow water begins, with no major rapids. High winds are frequent, some of which can become dangerous to anglers in smaller boats .The Missouri then flows into Canyon Ferry Lake.
Except for sea kayaks during good weather, floating is impossible across Canyon Ferry Lake. There is no easy way to portage the Canyon Ferry Dam, so floaters continuing downstream from Canyon Ferry Lake will need to arrange a car portage.
Below Canyon Ferry Dam, the river goes through two more dams before entering the prime fishing waters between Holter Dam and Cascade. A small Class II rapids exists about ten miles upstream from Cascade.
Below Cascade, the river slows down as the river leaves the mountains behind and flows towards Great Falls.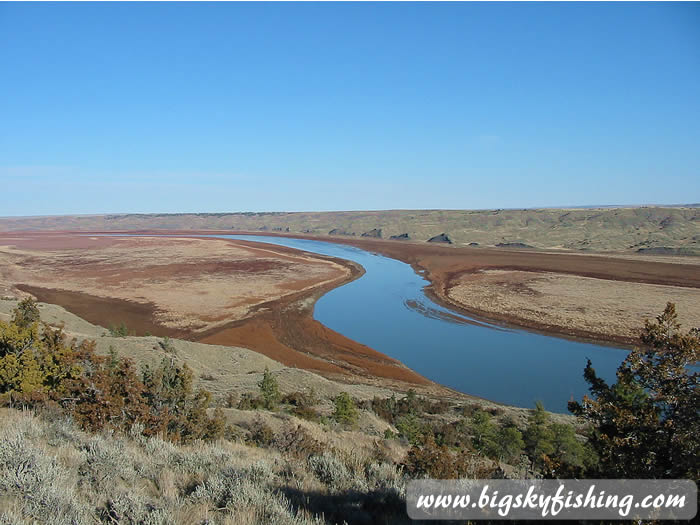 Missouri River in Missouri Breaks National Monument
Just beyond Great Falls, there are a series of five dams that floaters need to portage (which is best done by car. There's no easy way to wrestle a boat around all of the dams). Beyond these dams, the river then runs unobstructed without any major rapids for the next two hundred miles.
Downstream from Fort Benton, the Missouri River enters the Missouri Breaks National Monument. In this section, the Missouri River receives protection and becomes a National Wild and Scenic River. Its remoteness and unique scenery brings many people to this part of the Missouri River to venture out on quiet float trips, away from the hordes found on some other Montana rivers.
Paddling across Fort Peck Lake, except for perhaps in a sea kayak during periods of calm weather, is difficult due to long distances and frequent high winds. Several access points are available for take-out just above Fort Peck Lake.
Below Fort Peck Dam, the Missouri River flows without interruption to the North Dakota border and then to the confluence with the Yellowstone River. Its flows are slow to moderate, with no rapids. The country is remote. And few people use the river for floating or fishing.
---
Gear Tips for Floating the Missouri
The Missouri River between Holter Dam and Cascade is "equal opportunity" when it comes to boating. Pretty much anything that floats will float the river during the summer. Fishing guides use drift boats or large NRS or Aire Rafts with fishing frames. Solo anglers use pontoon boats, inflatable kayaks and smaller inflatable rafts. Float tubes should not be used anywhere on the Missouri River, since using a float tube on a river is fraught with risks—especially a river like the Missouri with its depth and powerful current. In other words, leave the float tube at home if planning to fish or float the Missouri.
By contrast, recreational floaters use anything that happens to float for a few hours. From "love boat" floating chairs to canoes to cheap Walmart inflatable rafts that fall apart the first time a fish looks at it wrong—all sooner or later find their way on the Missouri. For smaller groups and solo paddlers, probably the best vessels to use for recreational floating are quality inflatable kayaks (such as from NRS, Innova or Sea Eagle) or small rafts (small motormount inflatable rafts are ideal for fishing the Missouri on a budget, since a trolling motor can be attached).
Read More - Guide to Inflatable Rafts
Further downstream (below Great Falls), canoes become popular for groups or where two people are in the boat—especially below Fort Benton. Sea kayaks are used by solo paddlers. Due to frequent high winds and slower flows, rafts (if they lack a motor) aren't the best vessel for floating the Missouri River below Great Falls. Also, jet boats and motor boats do use the Missouri River below Fort Benton, so watch out for the occasional power boat ripping up the river.
---
Etiquette
The Missouri River is one of the few rivers in Montana where some common-sense etiquette should be followed by all floaters. On busy summer weekends, the river is jammed with floaters between Holter Dam and Cascade. During busy times, floaters should keep well back from the boat in front of them—and ideally be on the other side of the river if possible.
This is especially true for anglers. Anglers "fishing on top each other" is an unofficial no-no on the Missouri, and fishing to close to another boat (especially a licensed fishing guide) is likely to earn some well-deserved nasty remarks.
---
River Miles
Listed below are selected river miles for the Missouri River, from its origin to the North Dakota border.
Origin at Three Forks, Montana: 0
Fairweather Fishing Access Site (FAS): 11
Toston FAS: 27.1
York's Bridge FAS: 36.3
Townsend Access Site: 51.3
Wolf Creek Bridge FAS: 112.7
Craig FAS: 118.2
Stickney Creek FAS: 121.9
Spite Hill FAS: 122.6
Dearborn FAS: 124.1
Eagle Island FAS: 125
Mid-Canon FAS: 125.6
Mountain Palace FAS: 131.6
Hardy Bridge FAS: 132.4
Prewett Creek FAS: 132.8
Pelican Point FAS: 136.3
Dunes FAS: 165.6
Ulm Bridge FAS: 168.9
Big Bend FAS: 189.1
White Bear FAS: 194.1
Giant Springs State Park (Great Falls): 204
Carter Ferry FAS: 238
Loma Access Site: 278
Coral Banks Access and Boat Ramp: 298
LaBarge Rock Access: 311
Judith Landing Access and Boat Ramp: 345
McClelland Ferry: 359
Cow Creek Access: 385
James Kipp Access and Boat Ramp: 386
Siparyann Access Site: 394
West Boundary Charles Russell Wildlife Refuge: 396
Rock Creek Access and Boat Ramp (before Fort Peck Lake): 401
Fort Peck Dam: 541
Lewis and Clark FAS: 612
Brockton Access Site: 661
Culbertson Bridge FAS: 691
North Dakota Border: 720
---
---
Related Articles & Information