While I don't have proof, I suspect Uggs are the most popular winter boots on the market today. While not frequently seen in Montana (although Ugg slippers are very popular in Montana), elsewhere, Ugg boots seem to be everywhere. Since Uggs come in all shapes, colors and funky styles, there seems to be a boot for every personality and every occasion.
Most Ugg's are designed for what I would best describe as "around town" and moderate "day to day use." By this, Uggs are excellent winter boots for activities that range from shoveling the drive, going to the mall, trudging to work, to school, shopping or painting the town red at night. The Ugg Classic and Ugg Bailey, in their myriad of colors and varoius styles, are likely the most popular boots for these kinds of uses.
But Ugg has some boots designed for uses beyond the workplace and the mall, too. Boots that provide excellent traction, are easy to clean and have great support. In short, Ugg has several boots that compare to winter boots made by other manufacturers, but which also contain the premium shearling insulation Ugg is known for.
Contents of Page
Ugg Boots Beyond the Mall & City
The popular and stylish varieties of Ugg boots are great for most in-town and city uses. They are warm, easy to slip on/off, stylish and just plain comfortable on the foot. They are easy to drive in, provide enough traction to usually make it across the parking lot without problems and are comfortable and stylish enough to tromp around in the office all day while wearing them.
But what if you want to do more with your Uggs?
What if you need to take a long walk in the winter down a city sidewalk or street—a walk that passes through icy, very wet and snowy terrain? Or what if you want to take a long winter stroll through the woods, where the terrain is uneven, rocky, potentially slippery and partially snow-covered? Or what if you are older and don't have quite the balance you used to, and worry about slipping on a hidden patch of ice while walking down the sidewalk to your car?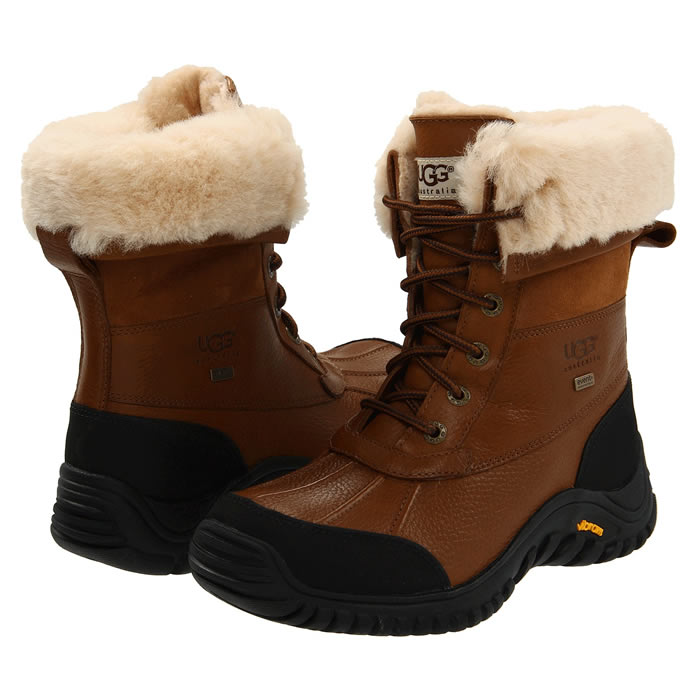 Ugg Adirondack Boot is an excellent boot for women with great traction. Read Reveiw.
Well, that's where the problems with the standard and most popular Ugg boots, such as the Classic and similar styles, arise. It isn't because these boots aren't warm—all Ugg boots are fantastically warm due to the merino wool insulation.
Instead, the problem for more "extended outdoor uses" with boots like the Ugg Classic is that their design simply doesn't lend itself well to such activities. The popular and fashionable Uggs lack the solid traction found in other winter boots, leading to the potential for unpleasant slips and falls when trekking across slippery and icy terrain.
Moreover, while Uggs are fairly easy to clean (read How to Clean Ugg Boots for more information), walking through muddy terrain or through deep puddles of dirty water is a superb way to consign your favorite pair of stylish Ugg boots to an premature death while removing much of their superb insulating ability.
Fortunately for lovers of shearling insulation, Ugg recognized the limitation with their popular Classic line and has created boots, for both men and women, which are better suited for more demanding winter tasks. These boots have far superior traction, similar to what is found on other quality winter boots and hiking boots. These boots also are far easier to clean due to their exterior design.
The purpose of this section of the site is provide detailed information about the styles of Ugg boots that are designed for more demanding winter uses than simply heading to the mall or out to your favorite restaurant. If you want to read reviews or get information about other "more fashionable" styles of Uggs, head over to Zappos to read reviews on other Ugg products. Just be prepared to spend hours.
Why Is This Information Here?
For those who might be wondering why this information landed on a site about Montana, it is because my Mother loves shearling insulation. After I bought her a pair of Ugg Slippers to battle cold feet at home, she fell in love with Ugg products and wanted an Ugg winter boot. The problem is that where she lives is snowy and very icy throughout much of the winter. The popular Ugg Classic and other "stylish" boots were a guaranteed recipe for a nasty fall and a trip to the hospital due to lack of traction and support. So I helped her shop for a proper shearling boot for her uses during the winter months. Ultimately, she ended up buying the Ugg Adirondack—a boot she still continues to wear several years later without any complaint or problems.
Info & Reviews About Ugg Boots For Demanding Winter Uses
If you plan to use Uggs beyond what most people use them for (such as going to work or school, shopping and a night out on the town), then you'll want a boot that meets your needs. Specifically, you'll want a boot that provides excellent traction, protection from the water and is easy to clean.
Below are the Ugg boots I've found that meet these requirements. While these boots will work just fine for more "pedestrian uses," ultimately they are designed for people who spend a fair amount of time outdoors during the winter and will be doing lots of walking—particularly across snowy, wet and slippery terrain.
Reviews of Specific Ugg Boots Ideal for Winter Use
Other Ugg Boots with Excellent Traction
Ugg Boot Insulation & Merino Wool
The exterior of Ugg boots varies from boot to boot. However, the insulation of Ugg's all share one thing in common—they all use quality merino wool. Merino wool is excellent insulation for use in winter boots. Merino wool is extremely warm while still allowing a foot's perspiration to escape, thus keeping the foot dry.
One drawback to Merino wool, however, is its durability. In particular, merino wool isn't the best fabric to use in boots where the you'll be tromping through mud or doing anything else that has a high probability of getting the inside of the boot dirty or dripping wet. Once merino wool gets dirty, it loses some of its insulating abilities. And more practically, cleaning the merino wool from the inside of a boot is not the easiest or most pleasant of tasks.
Because of this, if your winter plans involve wandering through the mud, look at getting a more practical boot. If you need a snow boot (read article for differences between a snow boot and a winter boot), consider a Sorel or Baffin boot, due to their warmth, ruggedness and ease of cleaning. For a more "day to day" winter boot that still will get muddy, consider some of the winter boots made by Columbia, The North Face or one of many other brands available.
Ugg Boots & Socks
Did you know what the best way to wear Ugg boots is with bare feet? Yes, it's true. Merino wool is one of the few boot insulations where going barefoot is considered the best way to get the full effect of the boots insulation.
Of course, going barefoot during the winter months presents several inconvenient challenges, not the least of which is the strange looks received when walking around barefoot at most workplaces. Thus, very few people actually wear their Uggs without socks.
But this then leads to another question. What are the best socks to wear with Ugg boots? This is not an idle question, either. Wearing the wrong sock with any Ugg boot is a wonderful recipe for both cold and smelly feet.
Similar to other winter boots, if you want your feet to stay warm while wearing Uggs, it is crucial to leave the cotton socks where they belong—ideally in the trash can or, at a minimum, in the "summer sock" drawer (although wearing cotton socks in the summer is a bad idea, too). For the many reasons why cotton socks shouldn't be worn during the winter months, read the Importance of the Winter Sock article.
But for a quick summary of which socks to use when wearing Ugg boots, the choice really should be blindingly obvious if you stop and think about it. If you're wearing an Ugg boot of any style, your boot has luxurious shearling insulation. So…if you think about, doesn't it make perfect sense to wear a shearling sock too? More pointedly, why on earth would you surround your foot with a raggedy, Chinese made cotton sock while wearing a boot made with premium New Zealand shearling insulation?
And in the world of shearling socks, the best ones are by far the ones from SmartWool. Thus, my suggestion for Ugg boot lovers of the world is to use a SmartWool sock when wearing an Ugg boot. SmartWool socks are available in a dizzying variety of styles, colors and thicknesses to meet any occasion. For more information about SmartWool socks—along with some suggestions on which ones to get—read the SmartWool sock review article.