If you've ever taken a guided float trip for a day in a tourist area, you've likely encountered the wet shoe. You know—those neoprene "shoes" (and I use the term loosely) that the guide service makes you wear while out on a guided day float trip. Those well-worn shoes that have little or no soles on them and thus make walking over anything but grass and sand an agonizing affair—yet which work surprisingly well keeping the feet warm while floating the river.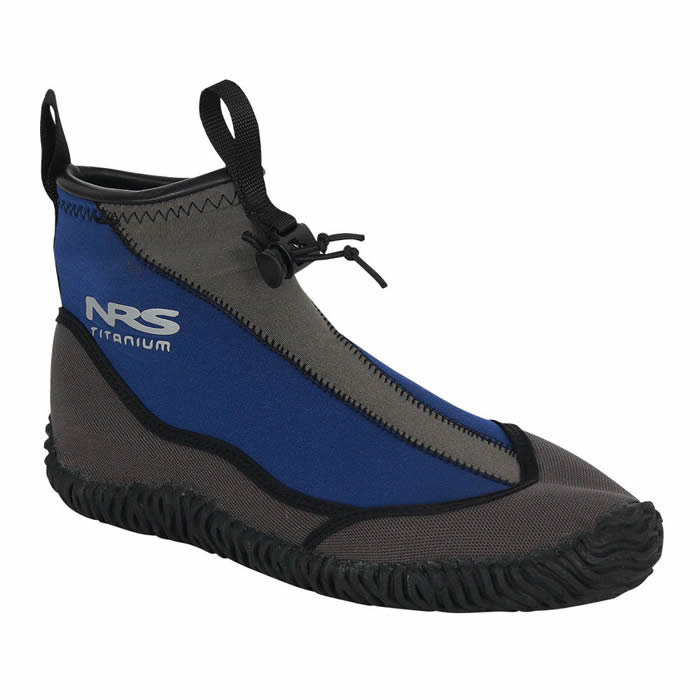 The Wet Shoe
A wet shoe is essentially a neoprene bootie that fits tightly around the foot, but which also has a very thin sole with a bit of traction on the bottom. Generally, a wet shoe's sole is so thin that walking on any sort of rocky terrain is a real painful adventure, since the rocks poke painfully up into the bottom of the foot.
Of course, taking hikes in them—of any length—isn't what a wet shoe is meant for. Instead, a wet shoe is a shoe that is meant for use on the water only. The purpose of the shoe is to provide good traction while in a wet inflatable raft, while at the same time keeping the foot warm even during colder (but not frigid) weather. The neoprene of the wet shoe traps a thin layer of water between the foot and the neoprene insulation—and essentially functions as a wet suit for the feet. The body heat from the foot then warms the trapped water, keeping the feet nice and warm.
So do you need—or want—a wet shoe? Well, if you own a rafting company that people pay good money to take float trips with, well, of course you need a pile of wet shoes in various sizes. However, individual floaters using their own boats will only find a need for a wet shoe in specific cases (read more below).
One use for wet shoes is to function as in insulating layer while out on the river, while wearing a water sandal over them. I do sort of the same thing—except I use neoprene booties instead of a wet shoe. But the function is the same. While floating in colder weather or where I know the foot will be exposed to cold water all day long (such as frequently getting in and out of the boat), I'll put on the neoprene booties and then slip on my water sandals over them. This way, my feet stay warm (despite being wet) all day long, even during less than ideal temperatures.
While using a neoprene bootie/wet shoe in conjunction with a water sandal isn't needed in typical summer weather, during colder weather—such as taking floats when the air temperature is less than 60 degrees—the ability to keep the feet warm throughout the day is vital. Other than perhaps taking a float through a cold rain, few things are more unpleasant than being stuck in a boat all day while having feet that first slowly become painful and then numb.
Of course, if you take colder weather floats, you'll want more than just a neoprene bootie/wet shoe to keep the feet warm. Neoprene gloves will also be essential.
You Might Want a Wet Shoe If...
Overall, wet shoes have very niche uses. If I had to break down who might benefit from using a wet shoe, it would be for people doing the following water sports activities:
Swimming at the beach – Wet shoes are perfect to keep the foot warm while swimming in colder water. Additionally, wet shoes are perfect shoes to wear while swimming in any water where there's the possibility of stepping on something "unpleasant" while wading or swimming. The sole of the wet shoe—thin as it might be—prevents pebbles, small bits of rubbish and small shards of glass from slicing into the skin of the feet.
Owner of a River Rafting Company - You want to inflict pain on your guests when they walk on rocks along and in the river, thus allowing for the sale of photos with interesting facial expressions at the end of the float trip.
You have your primary shoes with you while out on the water - You just need a cheap pair of shoes for being "out on the water" and have a 2nd pair of easily accessible shoes (stored in a dry bag you take along) of some kind to wear when not in the boat.
Insulating Layer while using a Water Sandal - You need an insulating layer to keep the feet warm while taking floats in colder weather and, for some odd reason, don't want to use a neoprene bootie in conjunction with a water sandal instead.
Smooth Put In/Take Out Spots with No Portages or Hiking - You know for a solid fact that where you put in and take out with your boat is nice and smooth, and that there will be no need for any walking in the river or along the banks of the river while out on the float. In short, you won't be doing any portaging or need to walk in/along the banks of the river. An example of this usage would be sea kayakers, as well as lake paddlers who put in/take out at the same spot. Sea kayakers often use wet shoes, since they'll put in and take out their kayaks at piers/boat ramps and generally only leave their boats to walk along the beach and other sandy areas.
Where To Buy Wet Shoes
Wet shoes, being rather specialized footwear, aren't commonly found offline. Even tracking them down online can be a bit of a challenge. Offline, your best bet to find them are at highly specialized and technical outdoor gear stores (such as REI or Eastern Mountain Sports) or at dedicated paddling/kayak stores.
Online, by far the best place to buy wet shoes is from NRS. They have their own style of dedicated wet shoes which are probably the most popular wet shoe in use today. They are reasonably priced, too.
Another store that has a more limited selection of wet shoes is REI.Com. Finally, Amazon also sells a wide variety of wet shoes, although not all styles are suitable for hard-core floating adventures.