Boat shoes are very popular, yet are nearly an endangered species in Montana. And the reason for that is quite simple—the weather and geography provides for only very limited uses for a boat shoe in Montana.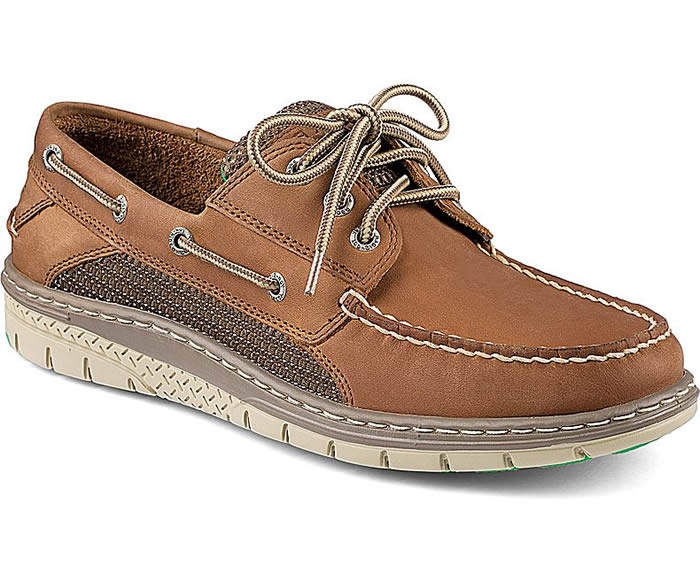 A Boat Shoe for Men
Instead, boat shoes are very popular in southern, warmer climates. While boat shoes are often associated with being worn "around the ocean," that isn't necessarily the case. The easy in/easy out nature of a boat shoe—combined with their comfort and attractiveness—allows boat shoes to be very functional far away from a water source.
Indeed, one of the most popular uses of a boat shoe these days doesn't have anything whatsoever to do with boating. Instead, boat shoes are often used today as a "work shoe." And that this has happened makes perfect sense. After all, boat shoes—being made of leather—look great at the office and out on the town once work ends. But unlike many dress shoes, boat shoes are very comfortable and help keep the feet cool. Moreover, unlike most loafers and other dress shoes, boat shoes have very good traction even in wet conditions.
Overall, boat shoes are destined never to be popular in Montana. The climate is simply too cold for them to be widely utilized as a comfortable dress shoe. And few people have big boats in Montana to use them on. Instead, about the only place you see boat shoes in Montana are at some of the fancy restaurants around Flathead Lake and Whitefish Lake.
That said, outside of Montana boat shoes definitely have their uses. So if you spend time on a larger boat—or just want a comfortable yet rather dressy shoe for around town—a boat shoe might just be for you.
You Might Want a Boat Shoe If...
Overall, boat shoes are far from popular in Montana. Indeed, one could call them an endangered species in Montana. But elsewhere, especially in southern climates along the Ocean, boat shoes are very popular and practical. So, you might want a boat shoe if your boating needs meet any of the following:
You Own a Big Boat – If you own a bit boat, like a large fishing boat or yacht, then a boat shoe is just what the doctor ordered. The shoes provide solid traction on these types of boats, while still looking good and being easy to get on and off.
Not Just For the Water - Boat shoes are probably more used on-shore than off-shore. Anyone who lives in warmer climates and spends time around the pier likely will find boat shoes very useful, since they work both on the boat as well as for dinner after a long day on the water.
You need a comfortable dress shoe - Yes, it's true. Many people wear boat shoes, at least during the summer months, instead of more expensive (and often less comfortable) loafers and other dress shoes. Boat shoes, as they're made from leather, are excellent "at the office" footwear—at least when the weather is nice.
You Will Not Want a Boat Shoe If...
Boat shoes have a surprising amount of uses, at least outside of Montana. However, there are a number of activities where using boat shoes are a recipe for "problems." These types of uses include:
You Get In and Out of the Water Frequently – While boat shoes will drain water, they drain it quite slowly. Moreover, boat shoes are usually made of leather. Constant submersion will slowly destroy the leather, not to mention keep the leather itself waterlogged. In short, if you'll be hopping in and out of the water a lot (such as rafting or kayaking), get something else.
You Plan on Hiking - Boat shoes are just fine for walking the piers and streets of town. Or the back yard or office for that matter. But under no circumstances should these shoes be used for hiking out in the woods or in rocky terrain. While boat shoes have ok traction, the traction isnn't ideal for hiking. Moreover, boat shoes lack any kind of ankle support, which is a recipe for huge problems while hiking in rocky terrain. As such, hiking in boat shoes is a wonderful way to sprain or break an ankle in the most inconvenient of places (which, admittedly, would add some excitement to any Montana trip).
Where To Buy Boat Shoes
There's a dizzying varieties of boat shoes available. Offline, upper end retailers usually sell some, although they don't stock anywhere near a full assortment. Online, the best places to buy boat shoes are at Zappos, due to their huge assortment in sizes/styles/brands. The free return shipping, in the event the shoe doesn't fit well, is also an added bonus.
Boat Shoes For Women at Zappos
Other places online to find wet shoes include Amazon.Com, Shoes.Com and Shoebuy.Com, as all these online stores have large selections of boat shoes in stock. One note of caution. If you buy footwear through a third-party seller at Amazon, the order may not qualify for free return shipping.