For those who participate in active water sports activities, choosing whether to purchase a water shoe or a water sandal is an important choice. Each of these footwear types have their specific uses. Choosing the wrong type of shoe for the type of activity that you'll be doing is a recipe for injuries and an otherwise "unpleasant" day out on the water.
Hopefully, this article should help people shopping around for water footwear decide whether they should get a water shoe or a water sandal.
Contents of this article include:
---
Ideal Uses for Water Sandals
A Teva Water Sandal designed for active water sports
Water sandals are by far the most popular water footwear type, and for good reason. Most people who need water footwear don't go "rock-hopping," take long hikes or go out on multi-night floats.
Before going into popular uses of water sandals, be clear about a water sandal actually is - at least for purposes of this article. Water sandals aren't flip flops. They also aren't those cheap sandals used at the pool or the local beach. Nor are they the many types of leather sandals that are available.
Instead, water sandals are essentially durable sandals that have superb traction on wet, slippery surfaces. Generally, these types of water sandals have traction similar to a good hiking shoe or boot. In short, these sandals are meant for people who wander in and out of a river or lake frequently, and need good traction so as to avoid taking a tumble.
With that said, most people who purchase water sandals use them for any of the following reasons:
Day Float Trips - For most day float trips (no overnight camping), water sandals are all that is needed. About the only reason to get a water shoe would be if you plan on doing extensive hiking.
Simple Wade Fishing - Many people wade fish with sandals, at least in warmer water and where water flows are very slow. Just be sure to use them where the ground is consistent (such as sand or a gravel bar). Using water sandals to wade fish in rocky terrain or in fast water is a recipe for unpleasantness.
Lazy Day at the Beach - A good pair of water sandals beat a cheap pair of Wal-Mart flip flops any day of the week.
Around town - Having worn my own Teva water sandals for sixty days while in Thailand, I can attest to the fact that they work just fine out of the water as they do in the water.
In short, water sandals have a myriad of uses and are extremely versatile. And, in general, unless you need the foot protection or traction found on a water shoe, a water sandal is generally all that's needed.
More information about Water Sandals
---
Ideal Uses for Water Shoes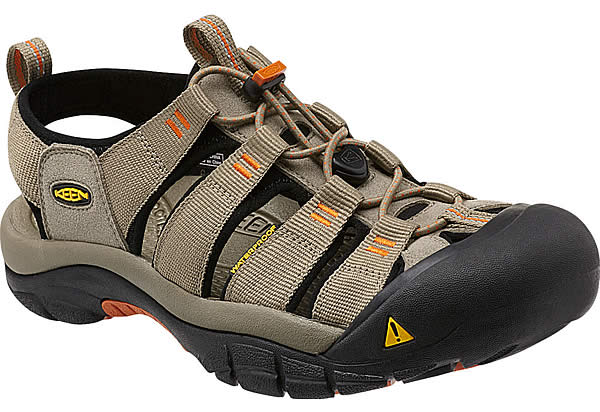 This is a Water Shoe. It is identified by the "closed toe" and the laces.
In contrast to water sandals, water shoes have very specialized uses. This specialty explains why there aren't really that many available to choose from. Only Keen, Teva and NRS make quality water shoes.
While water shoes are explained in more detail on this page, in summary a water shoe is a "closed-toe" shoe that also provides protection for the top of the foot, too. Some water shoes are actually called "sandals", such as the Keen Newport H2 Sandal.
Regardless of what it is called, however, water shoes are easily distinguished from a water sandal due to their "closed-toe." The front of a water shoe always resembles that of a normal shoe. This closed-toe protects the toes (such as from stubbing them against a rock or ripping off a toenail), while also allowing for more traction for both on-shore and in-the-water activities.
Ideal uses for water shoes include any of the following:
Multi-night float trips - A water shoe excels for these types of trips. Floaters only need bring one shoe for the entire trip, and the protection provided by the shoe prevents nasty and unexpected injuries in remote places.
Significant hiking while out on float trips - Water shoes work just as well out of the water as they do in the water. Anyone who plans to hike while out on float trips should use a water shoe. This is especially so if the hikes will go off-trail or passes through rough or rocky terrain. Again, the foot protection (especially the toe protection), is what makes water shoes better than sandals.
Floating through very rocky and broken terrain - Floaters who know they'll be getting in and out of the water in very rocky and broken terrain (not gravel bars or sandy beaches), should consider a water shoe too. In rocky/broken terrain, it is all to easy to break a toe or rip off a toe-nail.
Short or moderate hikes through wet terrain - Since water shoes work so well for hiking, they are ideal shoes to use for hiking in wet or boggy terrain. However, since water shoes lack the "padding" and other comforts of a hiking shoe, they aren't ideal for long hikes. In short, don't plan on hiking twenty miles in them in rough terrain. You can do it, but a hiking shoe will be much more comfortable for "true hiking."
More information about Water Shoes