Sadly, Ulu no longer makes boots. Sometime in 2013 or 2014 (I'm not sure when), Ulu went out of business completely. This is most unfortunate, since Ulu had some of the nicest, stylish and unique women's winter boots available.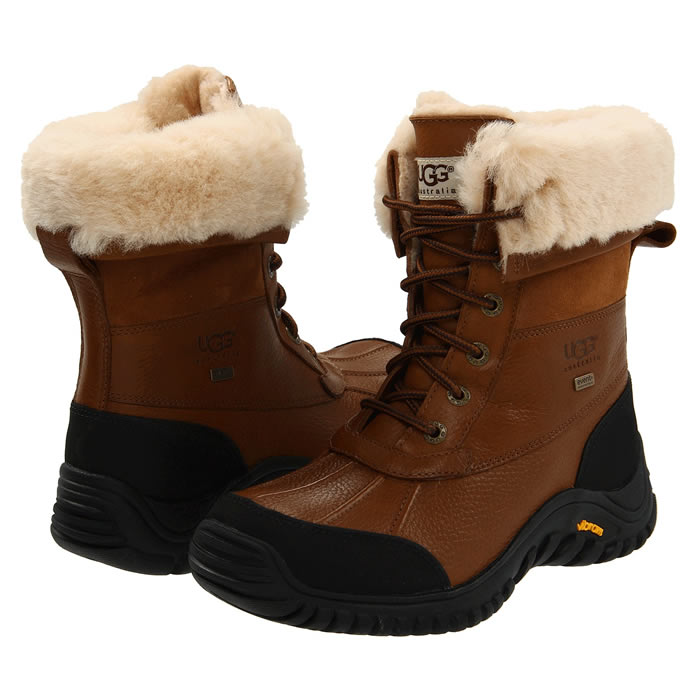 The Ugg Adirondack II, which is similar to many Ulu Boots.
Perhaps even worse, Ulu boots were one of the few boots many from premium Australian shearling.
Indeed, there are very few winter boot manufacturers who make their boots from quality, premium insulation. And because of this, finding a "replacement" for a Ulu boot is difficult.
For those looking for substitutes for Ulu boots, the logical first place to look is with Ugg Boots.
Ugg's are made from premium New Zealand shearling, which is almost identical to Australian shearling.
Thus, in terms of materials used, there isn't a big difference between Ulu boots and Ugg boots. Of course, Ulu's had a very unique and distinct style that isn't replicated by Ugg or other manufacturers.
Still, Ugg is always coming out with new styles, many of which look remarkably similar to some styles of Ulu's.
In any event, if you're viewing this page...most likely you were hoping to find an Ulu boot. And you probably liked Ulu boots due to their construction from premium shearling, their styles...or both.
So...my suggestion is this.
Start with Ugg Boots. Their insulation and quality is very similar to Ulu's. If you don't find a style you like in Ugg's, be prepared to get a boot made with different insulation. There aren't that many boots made from premium Australian or New Zealand shearling, limiting choices. While no insulation matches premium shearling in terms of softness or warmth, many types of synthetic insulation are nearly as warm and, as a bonus, are easier to maintain and clean.
If you aren't wild about the various styles of Ugg's, then here's some other warm brands of winter boots to consider. Some styles might have shearling insulation, but most probably don't.
Sorel Winter Boots for Women - Yes, Sorel has many stylish boots available now. It is probably no coincidence that their new, stylish boots became available about the time Ulu went out of business.
Merrell Winter Boots for Women - Merrell was a "sister site" of Ulu, so most likely the same company that owned Ulu owns Merrell. In any event, Merrell has a pretty large selection of winter boots in many attractive styles. Worth checking out, at a minimum.
Columbia Winter Boots for Women - Columbia is lacking the knock-out styles Ulu once had. Columbia really is a case of "function over form." That said, they do have a few unique styles of warm boots available for winter weather.
Reviews & Info About Other Ugg Winter Boots