One of the finer inventions among hiking gear, hydration bladders solved a big problem that plagued day hikers and backpackers for decades. The problem hydration bladders so neatly solved was how to pack along significant amounts of water without using precious pack space—and do so in a comfortable and efficient manner.
Hydration bladders, for those not familiar with them, are soft-sided plastic containers of water. Made from soft, flexible plastic, hydration bladders are flexible and squishy. The squishiness of the bladders allows them to fit neatly between the packs frame and the fabric of the backpack. Since hydration bladders are not inside the pack, they take up no precious pack space.
Even better, all hydration bladders have a long drinking tube. The drinking tube allows hikers to drink water directly from the bladder while "on the go." With a hydration bladder, there's no need to stop, take off the pack and then dig around for the water bottle.
Since I love hydration bladders, I thought it might be fun (and I'll admit, my definition of fun at times is strange) to create this article to help Montana travelers get the right type of "hydration gear" for their Montana hiking adventures.
This article covers the following topics:
---
Quick Summary about Hydration Bladders
The Best Way to Carry Water - Hydration bladders are, by far, the best way to carry water while day hiking or backpacking.
The Many Benefits - The benefits of hydration bladders include ease of drinking, comfortably carrying heavy water loads and saving precious pack space.
Hydration Bladders vs. Water Bladders - Hydration bladders shouldn't be confused with water bladders. Water bladders are similar to hydration bladders as they are soft sided water containers. However, water bladders will not easily attach to a backpack. Water bladders also lack the straw that allows for simple drinking from the bladder. In short, water bladders are for water shortage around camp or in a boat, while hydration bladders are meant for hiking.
Hydration Compatible Backpack – A hydration compatible backpack is needed to fully utilize a hydration bladder. Hydration compatible backpacks allow easy insertion of the hydration bladders between the packs frame and the packs fabric. The packs also have the necessary attachment points to secure to hydration bladder to the pack.
Common Sizing – Most hydration bladders are available in 1L, 2L and 3L sizes. On occasion you'll find some bladders larger or smaller, but typically 2L and 3L are the most common sized bladders used by both day hikers and backpackers.
Which Size to Get - If you currently have a hydration compatible backpack and need a hydration bladder, which size to get depends on the packs size and how much water you anticipate needing to carry. Some smaller daypacks (such as the Osprey Talon) can carry hydration bladders that are 2L or less. Larger daypacks and almost all backpacks can use the 3L size. Also remember that larger capacity hydration bladders provide greater flexibility while weighing just an ounce or two more.
If You Need a Backpack - If you are shopping for a daypack or backpack, be sure to buy a pack that is fully hydration compatible. While all new backpacks for overnight hiking are hydration compatible, many "book bag" styles of daypacks lack hydration compatibility.
Quality is Paramount - Since hydration bladders carry water and receive significant and harsh use, it is mandatory to buy a quality bladder to avoid leaks. Osprey, Camelbak, Hydrapak and Platypus all make quality hydration bladders that should last years—even with significant use.
Where to Buy Quality Bladders - Offline, quality hydration bladders are sold at REI, Cabela's and specialty outdoor sporting good stores. Avoid buying bladders at Wal-Mart, Target and similar types of box stores. Due to their rather specialized nature, the selection of hydration bladders offline is often limited.

Online, REI, Amazon, Campsaver and Moosejaw are all excellent retailers to search for quality hydration bladders. REI has the best warranty while Amazon typically has the largest selection and best prices.
View Hydration Bladders at REI
View Hydration Bladders at Amazon
---
The Many Benefits of Hydration Bladders
So why are hydration bladders become indispensible for day hikers and backpackers alike? Here's some of their key benefits:
Easy to Stay Hydrated - Because of the drinking tube attached to hydration bladders, remaining hydrated is now simple. Hikers no longer need to stop, remove their pack and then hunt for water. By using a hydration bladder, hikers can continue hiking while sipping water.
Free Valuable Pack Space - Since hydration bladders are stored between the packs frame and fabric, no internal pack space is used. This allows hikers to use smaller (and thus lighter) backpacks.
Comfortable Carry of Water - The soft-sided, flexible nature of hydration bladders prevents the problem of having canteens poking into the hikers back. Moreover, hydration bladders evenly spread the weight of water and help keep the pack evenly balanced.
No Wasted Space - As the hiker drinks water, the hydration bladder shrinks. Unlike traditional canteens that use significant pack space when empty, hydration bladders literally "shrink to nothing" when empty.
Lightweight - Hydration bladders are very light. Even the largest 3L bladders often weigh six ounces or less. In contrast, a typical Nalgene plastic bottle tips the scale at four ounces and only holds 1L of water.
Overall, hikers who use hydration bladders can comfortably carry even large amounts of water, while the drinking tube makes it simple to remain hydrated. As such, hydration bladders are essential equipment for backpackers and day hikers taking longer trips.
---
Hydration Bladders v. Water Bladders
To avoid potential disasters on the trail, it is important to illustrate the differences between a hydration bladders and a water bladder. While these bladders often have a similar appearance, the difference in design and construction limits their utility for specific situations.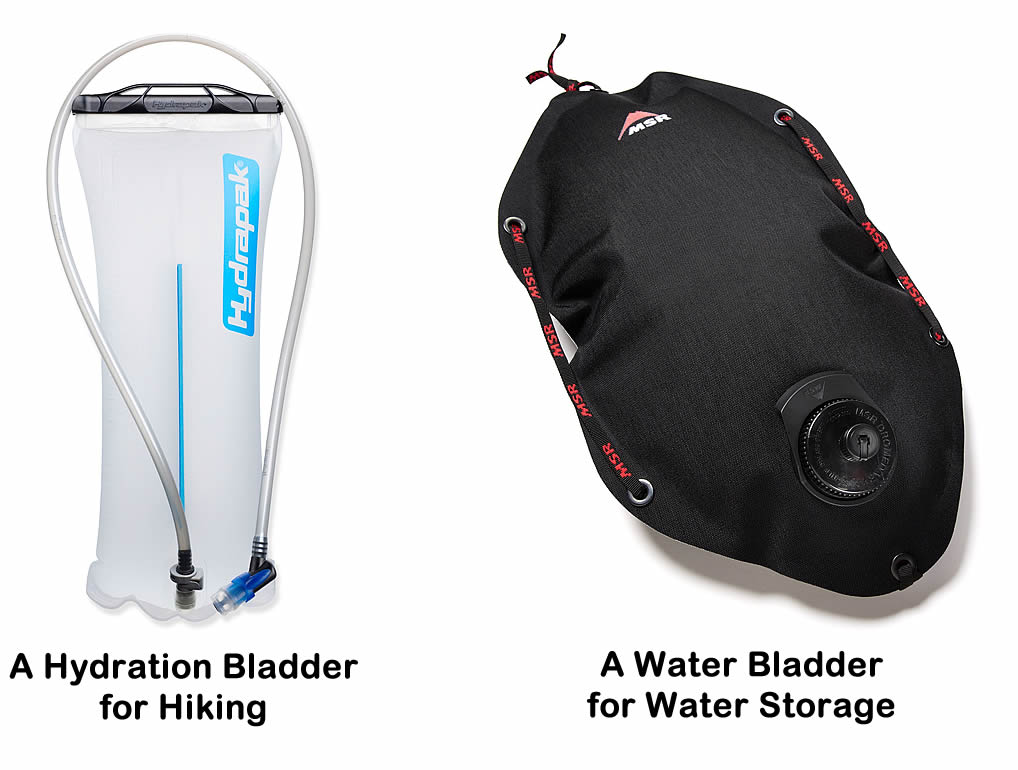 A comparison of a hydration bladder and a water bladder. Note the sleek, lightweight design and attached drinking tube of the hydration bladder.
Hydration bladders are for hikers and backpackers. The specific design of hydration bladders makes it simple, easy and comfortable for hikers to carry water while remaining hydrated. Hydration bladders always have the drinking tube, and are specifically designed to attach to a backpack.
By contrast, water bladders are meant for water storage at camp, in the boat, or just about anywhere else. Since they're meant for pure water storage, a quality water bladder is often far heavier than a hydration bladder. Indeed, the MSR Dromedary Water Bladder I use for float trips pulls triple duty as a pillow and a footrest. Finally, water bladders lack a drinking tube (although hydration kits are available for some MSR water bladders) and lack the "sleek design" that allows hydration bladders to properly fit in a pack.
In short, these two types of bladders each have specific uses. For hiking, use a hydration bladder. For everything else, use a water bladder.
---
Shopping Considerations
Shopping for a hydration bladder is pretty straightforward, but here's a few things to keep in mind:
Capacity - The largest consideration is what capacity hydration bladder to buy. Most hydration bladders range in size from 1L to 3L. Smaller daypacks (such as my Osprey Talon) often can't accommodate bladders larger than 2L, so keep that in mind if you're shopping for a bladder to use with a small daypack. But larger daypacks and all backpacks can accommodate the larger bladders.
It is tempting to buy a smaller bladder, both to save a few dollars and to reduce weight by an ounce or two. However, keep in mind there's no law that mandates a 3L bladder be filled to capacity. Thus, on shorter treks the hiker can always choose to just partially fill a larger bladder. Moreover, a partially filled 3L hydration bladder rides just as nice in the pack as a fully filled 2L bladder.
In short, unless your pack can't accommodate it, my suggestion is to always buy a 3L hydration bladder. Larger bladders provide greater flexibility in how much water a hiker can bring, with no downgrade in performance.
Quality Matters - When dealing with water, quality matters. Having a leaky hydration bladder is a fine way to ruin an otherwise good hike or, worse, ruin some camping gear. Osprey, Camelbak, Hydrapak and Platypus all make good quality bladders that should last years – even with heavy use.
Weight - For ultralight hikers, every ounce counts. And while far from the heaviest item in the pack, there is a surprising weight difference among the different hydration bladders. Some 2L bladders can weigh 10 ounces while other 3L bladders top the scales at six ounces. So the moral of the story is, if you're going ultralight, just don't grab the first good-looking bladder that's on sale. Instead, pay close attention to the bladders weight. If you buy the hydration bladder from REI.Com, the full pack weight of the bladder is clearly listed.
---
Where to Buy Quality Hydration Bladders
Offline, quality hydration bladders for hiking are sold at specialized outdoor sporting good stores. In particular, REI and Eastern Mountain Sports are both excellent offline retailers to shop for bladders.
Online, REI and Amazon are two excellent places to start shopping for a hydration bladder. REI has the best warranty while Amazon typically has the largest selection and best prices. REI also provides detailed technical information about each bladder, including its full pack weight.
View Hydration Bladders at REI.Com
View Hydration Bladders at Amazon.Com
Other good online retailers to shop for hydration bladders include:
---
Hiking & Camping Gear on Sale