Iam thankful sheep exist. See, without sheep, there would be no shearling wool. And without shearling wool, there would be no fleece jackets or other fleece clothing items. And that would be terrible, since quality fleece clothing is one of the finest hiker inventions since the creation of uphill trail elevators.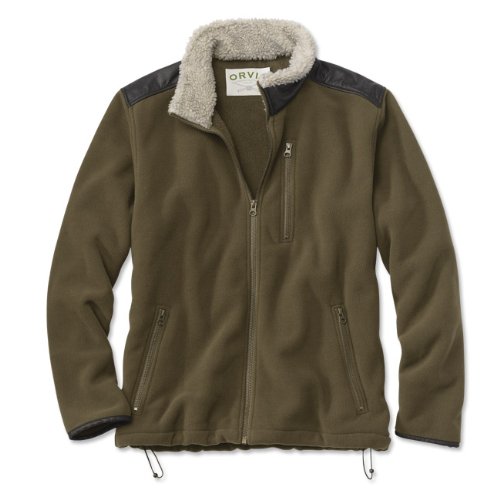 An Attractive Orvis Zip-Up Fleece Jacket available at Amazon.
First-time visitors to Montana during the summer often leave warm clothing behind. They then rudely discover that Montana often has cold nights and, sometimes, chilly days. These new visitors then visit local shops and buy whatever over-priced clothing they find to stay warm.
Cold nights in Montana during the summer aren't a rarity, either. Near freezing temperatures are normal in higher valley locations, which include Yellowstone National Park. Other notorious "cold spots" in Montana include the Big Hole Valley and Glacier National Park. And to point out the obvious, anyone spending time in the remote, higher-elevation mountains of Montana will also find near-freezing temperatures at night.
Because of the rude surprise that Montana summer weather often heaps on new visitors, I've prepared this guide to help new visitors stay warm during their trip to Montana.
This article covers the following topics:
---
Cotton...Just Say No
Well, I'll have no friends in "cotton country" for saying this, but too bad. Cotton, to put it simply, stinks for backcountry use, both literally and figuratively. Cotton jackets, cotton shirts, cotton pants and anything else made from cotton should never be used for backcountry travel in Montana (or elsewhere for that matter). Period.
There's many reasons hikers should avoid cotton like the plague. First, cotton clothing absorbs moisture; both from perspiration and from external sources such as rain. And when cotton clothing gets wet, the clothing becomes useless. Indeed, wet cotton clothing is worse than useless, since wearing wet cotton clothing makes the poor soul even colder. To further compound matters, since cotton jackets trap a person's perspiration inside the jacket, someone wearing wet cotton clothing often smells similar to Peanuts' Pig-Pen.
---
Fleece Clothing - The Best Choice
Because cotton is such a useless garment for serious outdoor, camping or backcountry trips, clothing made from fleece should always be used. In particular, anyone who plans to camp out, take long day hikes, float the rivers or plan multi-night backpack trips should have several types of fleece clothing available while leaving cotton clothing behind in the suitcase.
So what makes fleece so special for outdoor activities? Unlike cotton, fleece retains most of its insulating properties even when the garment is wet. Fleece clothing also dries fast, much the opposite of cotton clothing which can take forever to dry. Indeed, the body heat of a person can dry out moderately-wet fleece clothing surprisingly fast. Finally, fleece clothing is also warmer, far softer and more comfortable than clothing made from cotton.
Fleece jackets and other fleece clothing (such as fleece shirts) are perfect for day hikes and float trips in cooler weather. And fleece clothing should be mandatory for anyone day hiking in "uncertain weather" or who ventures into the backcountry on multi-night backpacks.
Fleece clothing also has two further benefits many forget. First, fleece jackets and other clothing are easy to clean. Often, simply rubbing the garment with a wet towel removes nasty, smelly stains. Second, quality fleece clothing is far more durable than even high-quality cotton clothing. Quality fleece clothing lasts years, even decades, if properly cared for.
Types of Fleece Clothing
Years ago, fleece was relegated to functioning as a soft-inner for technical gore-tex winter jacket shells. Happily, fleece's increasing popularity has resulted in fleece now being used in most clothing types.
The Two Pitfalls of Fleece Clothing
Like any fabric, fleece has pitfalls. The first drawback of fleece is poor wind resistence. On colder, windy days, often a lightweight windbreaker (ideally one that is waterproof) needs to be worn over a fleece shirt or jacket. A second pitfall of fleece is the lack of compressibility. In particular, medium and heavyweight fleece is bulky. For backpacking, it is best to take one or two lightweight fleece shirts, and wear them in layers if the weather is cold.
---
How to Care For Fleece Clothing
Another nice benefit of fleece is that the fabric is easy to clean. Unless the label states otherwise, fleece is safely washed in a normal washing machine using cold or warm water. Just be sure to not use bleach. To dry out a fleece garment, just toss in the dryer on a low to medium setting for 10-15 minutes. Fabric softener may safely be used, as can anti-static dryer sheets.
But not only is fleece is easy to clean indoors, it is also easy to clean outdoors, too. A simple dunking in a river or lake, with perhaps a bit of scrubbing to remove any caked in mud or food stains, often is all that's required to keep a shirt clean and smelling good. And unlike cotton, fleece that is cleaned "streamside" dries out quickly. Just wring out the garment as much as possible and let it air out in the breeze or the sun for half an hour or so. Then put on the garment and let body heat do the rest.
---
Shopping Considerations
Fleece, like other garments, has various "features" and "options" available. Before plunking down money for fleece clothing, a person shopping around for fleece garments might want to consider the following:
Loose or Snug Around the Neck
For fleece jackets and fleece shirts, will you want the garment to fit snugly around the neck? For maximum warmth and flexibility, I suggest the following:
For jackets, make sure the jacket zips up snugly around the neck. During colder weather, and especially at night, the ability to prevent the colder air from invading inside the jacket is very important. For warmer weather, the jacket can just be partially or fully unzipped.
For shirts, I'd suggest buying both a thick and thin fleece shirt. Buy a thicker shirt that fits or zips up tightly around the neck. Then buy a thinner fleece shirt with a lower, open neck. Use the open neck shirt for warmer weather outings while reserving the thicker shirt for cold weather and nighttime uses.
How Many Pockets?
For fleece jackets, my suggestion is to buy a jacket that has at least three pockets (two handwarmer pockets and either one chest or internal pocket). When camping or hiking, extra pockets always come in handy.
For shirts, by contrast, pockets aren't needed but often come in handy. For me, my thicker fleece shirts lack pockets, but my thinner fleece shirts all have small chest pockets. I find the chest pocket handy at times to carry a small camera or to stash the sunglasses in.
Garment Thickness
As common sense suggests, the thicker the fleece the warmer and softer the garment is. Thus, I'll again suggest getting two types of fleece shirts—one thick shirt and one thin shirt. With two types of fleece shirts, a person is prepared for the variable weather they'll encounter in a Montana summer. These two shirts can always be "layered" to increase warmth, if needed.
For jackets, a thin fleece jacket is all that's required for most summer weather in Montana. While the thicker jacket can come in handy, for most people visiting Montana during the summer a thick fleece jacket is overkill.
Remember, fleece is a great garment for "layering." Combining one thin fleece shirt, one thicker fleece shirt, and one thin fleece jacket (which is a common layering method I use) works extremely well for temperatures down to freezing and even a bit below. Just remember that in colder weather, you'll want a hat and some gloves, too.
Hood or No-Hood?
I dislike clothing with an attached hood. But that's just my own preference. Not surprisingly, I never buy fleece shirts or jackets which have an attached hood. I prefer instead to use a fleece hat for colder weather. While having an attached hood is convenient, I find that convenience is outweighed by the added bulk and weight.
---
Where to Buy Quality Fleece Clothing
Fleece clothing is widely available. Walmart and other big box stores sell a wide variety of clothing that is either 100% fleece or contains at least a bit of it.
Yet, the quality of the fleece used in the clothing sold at big box stores tends to be poor. Poor quality fleece is easily identified by washing it. Poor quality fleece will, after just one or two washes, begin to pill (or "ball up"). Lower quality fleece also isn't nearly as soft as its higher-quality cousins.
Happily, low quality fleece clothing products are easy to avoid. Just don't shop where it is sold. Always buy fleece clothing that will be used for outdoor pursuits at an outdoor retailer that specializes in technical, quality outerwear.
Offline, two suggested places to buy quality fleece clothing are at REI and Cabela's.
Online, the retailers listed below all sell quality fleece products from well-regarded brand names.
---
Good Brands of Fleece Clothing
Due to the increaisng popuarity of fleece clothing, numerous brands now make various fleece clothing types. If you're unsure of whether a brand is good or not, use the list below. All the brands below have been making quality fleece clothing for years.
Arc'teryx
Black Diamond
Columbia
Marmot
Mountain Hardwear
Orvis
Patagonia
The North Face
There are other good brands of fleece clothing. These are just the brands I currently have and use. Just try to avoid the "Wally-World" specials and you're likely to be ok in terms of quality.
---
Hiking & Camping Gear on Sale