Hiking Clothing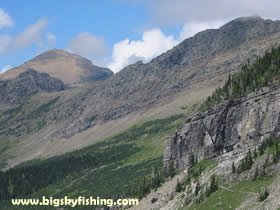 Good Place forGood Hiking Clothing - The Continental Divide in Glacier National Park
Photo Use Guidelines
Hiking clothing is specially designed apparel for hiking, obviously. Not too many years ago, most hikers just wore blue jeans, cotton shirts and other typical household clothing when out on the trail. While such clothing does work, newer technologies in fabrics have come a very long ways in allowing for the creation of some great clothing that makes hiking safer, more pleasant, more convenient and much more comfortable. Read more about the Benefits of Hiking Clothing below.
As I'm an avid hiker, and a recent convert to dedicated hiking clothing, as part of this site I decided to put up some information about many of the best hiking clothing that a person, especially one who spends time in the mountains, is likely to find useful.
---
Essential Hiking Clothing
I would label the following six types of clothing/footwear as "essential hiking clothing" for those who are looking to upgrade their grear. To learn more about any of these essentials, just click on any of the links.
Hiking Boots : It all starts here. If you have a bad pair of boots, the rest of your gear is meaningless.
Hiking Socks : The little sister to hiking boots - but just as important in keeping your feet blister free and comfortable.
Hiking Pants : Say goodbye to blue jeans. Once you've used some convertible hiking pants, you'll wonder how you ever hiked without them.
Fleece Jackets : The perfect, packable way to stay warm in the high altitudes of Montana.
Rain Jackets : Yes, it does in rain in Montana. And it is a cold rain in the mountains.
---
The Benefits of Dedicated Hiking Clothing
For those of you who are not familiar with hiking clothing, here's some of the benefits that this specially designed clothing can provide for the active hiker :
Durability : Good quality hiking clothing (not the junk you get at Wal-Mart), has been designed to weather the rigors of both on-trail and off-trail hiking.

Comfort : One of the biggest benefits of the new hiking clothing currently out on the market is the great comfort that is provided. Hiking clothing tends to be loose fitting - especially on the legs, allowing for very comfortable hikes.

Weather Resistance : Much of the new hiking clothing is fully waterproof, while other types are generally water resistant. And even for the garments that are not waterproof, as the newer hiking clothing is made either of quick drying nylon or from fleece, even should the garments get wet, they dry out quickly and do not fully lose their heat retention capabilities.

Functionality : Hiking clothing is, above all, designed for function - not necessarily for form. As such, you'll find hiking clothing to be well "adapted" for spending time on the trail. Pockets are generally plentiful, the clothing is always very light as well as being very packable (allowing for ease of packing). Unlike blue jeans or other types of jackets, hiking clothing tends to pack down very well - allowing it to take up much less space inside a daypack.

Cost : The cost of hiking clothing is, generally speaking, not much more than buying other types of apparel. For example, hiking pants are generally not too much more expensive than a decent pair of blue jeans often is.
---
Some Parting Thoughts
All in all, if you are an active hiker - or want to be - I strongly recommend investing a little money in some quality hiking clothing. Once you outfit yourself with some quality clothing that has been specifically designed for hiking, I pretty much guarantee that you'll always be leaving your cotton jackets, blue jeans and ponchos at home on your future hiking trips. Best of all, outfitting yourself with the basic hiking clothing (rain jacket, hiking pants and a fleece jacket) will generally cost less than $200 for the entire setup. And, unlike traditional apparel, your hiking clothing will provide for many, many years or reliable and faithful service.
---