Outfitter Tents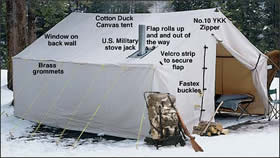 Your Standard Outfitter Tent - Warm, Roomy and Perfect for Extended Backcountry Use...if you have a horse to carry it!

Outfitter tents, also known as "wall tents" are, in some ways, the "true" Montana tent. Step out into the woods during hunting season in Montana and you'll see outfitter tents just about everywhere.

And the reason for this is very simple. Outfitter tents are exceptionally roomy AND, probably above all, allow you to have heat inside the tent, using an Outfitter Stove. This is no small deal during the fall, as November in Montana can be very cold, frequently snowy and sometimes rainy.

Outfitter tents are best used by people who need a "base camp" in the backcountry AND who have something (other than your back) to carry it in. Outfitter tents are, by their very design, very big, bulky and heavy. Ideal for a horse or a mule to carry, but miserable for a human. Moreover, outiftter tents are rather time consuming to set up. Because of this, if you plan on moving constantly, a full sized, "true" outfitter tent is probably not for you. Instead, go with some of the more "portable tents" (such as the cabin tent or a large dome tent) that are smaller and easier to set up but, sadly, don't have the many fine options available (such as the heater).

Remember, these tents are big and heavy - so don't plan on backpacking them. If you need heat, you'll want to get the "white walled" type tents which have the option to have a heater put in the tent. All these tents are available through Cabela's.
---
Copyright 2002-2018


Big Sky Fishing.Com