Outfitter Stoves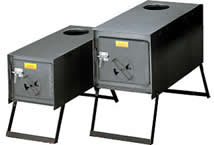 Your standard Outfitters Stove.
Well, where to start with Outfitter Stoves. These stoves are, by far, the warmest, handiest stove you'll ever get for backcountry use. Unfortunately, if you are a general camper or a backpacker, forget about using one. They are very bulky and very, very heavy. And unless you have an Outfitter Tent, the only good this stove will do you is to warm the outside air for the local wildlife.
Now, that all said, if you DO have an Outfitter Tent, then an outfitter stove is most definitely for you. These stoves, while a pain in the you know what to move, will help keep any outfitter tent that has been designed for a stove keep nice and warm. In short, outfitter stoves are the ultimate stove for hunters and outfitters who pack in to remote areas by horse or mule. Listed below are some outfitter stoves available through Cabela's.
---
Copyright 2002-2018


Big Sky Fishing.Com