The Baffin Base Camp bootie isn't a snow boot at all. And it certainly isn't something you want to wear by itself when wandering through deep snow, slogging through the mud, or wading across giant puddles of water. Yet, the Base Camp might solve a common problem many people have during the months—combating cold feet while at home. In particular, the Base Camp can really help people who have chronically cold feet keep their warm while at home, in an easy to get on/off style.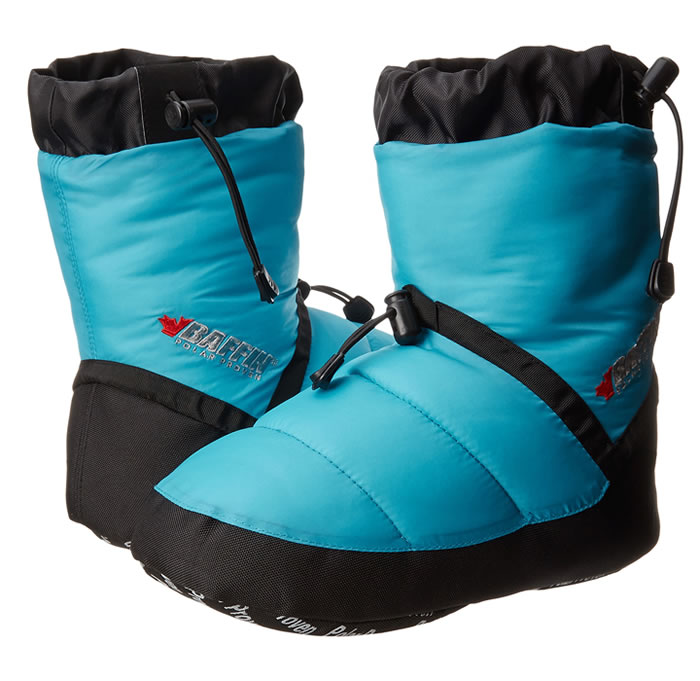 The Baffin Base Camp Bootie
The Base Camp, since it is a bootie, isn't a boot at all. Instead, the Base Camp pulls double duty as a very warm slipper for home use while being warm and durable enough for use as a camp slipper while camping or backpacking.
The synthetic insulation in the boot works very well in keeping the foot warm. And since the insulation is synthetic, not goose-down, the bootie retains its insulation even when it gets wet (one reason it is nice for camping and float trips).
Another handy feature of the bootie is the slip resistant sole on the bottom. Many, if not most, slippers lack one rather vital thing—traction. I long ago lost count the number of times I've slipped and skidded down the stairs while wearing a traction-free slipper. The Base Camp, due to its unique bottom, provides decent traction on carpet, the tile of your bathroom, as well as the nylon floors found inside a camp tent. Granted, nobody is going to confuse the traction of the Base Camp with the traction found on a quality hiking shoe or a water sandal. But still, the traction of the Base Camp should help prevent unpleasant and sudden encounters with the kitchen or bathroom floor in the middle of night.
Overall, if you suffer from chronically cold feet or you need a simple but warm bootie while out camping, the Baffin Base Camp bootie just might be for you. But again, as I've stressed throughout this section of the site, do not wear a cotton sock while wearing this bootie. A cotton sock will nullify much of the insulating properties of the bootie, and might even make your foot colder than if you wore nothing on your foot at all, since the sock becomes wet and coats the foot with a thin layer of water. For more information about the exciting and sexy world of winter socks, read the Importance of the Winter Sock article on this site.
---
Where to Buy & Prices
The Baffin Base Camp is widely available online, but I've never come across them offline (although admittedly I've never really looked for them, either). Online, my favorite footwear place, Zappos, generally stocks the entire collection of sizes and colors (and the Base Camp comes in many colors). Always helpful, Zappos provides free shipping on all orders as well as free return shipping, with a 365 day return policy.
The Baffin Base Camp is generally priced around $50, although Zappos usually sells them for less.
Buy the Baffin Base Camp Bootie at Zappos
Other online retailers where the Baffin Base Camp Bootie is often available include Amazon and Shoes.Com.
---
Basic Bootie Information
Temperature Rating : Does not have a specific rating. Simply meant to keep the feet warm while at home or camping out.
Colors Available : The Base Camp comes in a motley collection of colors, which tend to change yearly.
Weight : 6 oz.
Snow Cuff : No, and not needed.
Bottom : Slip-resistant outsole with Cordura nylon reinforcement.
Upper : Cordura Nylon.
Waterproof? : No
Replaceable Liner? : No.
Sizes Available : Comes in Sm, Med, Lg, Xlg, 2xLg, 3xLg. For both men and women.
Other Notes : For Both Men and Women
---
Advantages of the Baffin Base Camp Bootie
Some of the advantages of the bootie include:
Perfect for home use or while out camping.
Works as a slipper for home use, and has solid traction.
Inexpensive.
Reviews & Info About Other Baffin Winter Boots