Showdown ski area is a place few people from out-state know about, let alone visit. This isn't too surprising, considering the ski areas isolated location in the Belt Mountains of central Montana. Great Falls, not exactly known across the globe as a burgeoning ski town, is the closest major city. Because of this isolation, Showdown draws almost exclusively local skiers to its slopes.
Despite the isolated location, Showdown is a fun place to visit for a day of skiing. In particular, Showdown is a superb place for families due to its extensive network of well-groomed trails and affordable lift tickets.
Quick Links to article contents.
---
The Mountain
Showdown, while far from the largest mountain in Montana, isn't tiny either. With a vertical rise of 1400 feet spread over 600 acres, Showdown offers very good skiing and snowboarding for all levels of abilities.
View from Showdown Ski Area
Reaching Showdown is fairly easy. Showdown is located at the top of Kings Hill Pass on US Highway 89, just a bit south of the small town of Neihart and 25 miles north of White Sulphur Springs. The nearest major city, Great Falls, lies 65 miles away and is about a 90 minute drive, depending on the weather. US Highway 89 is generally well maintained during the winter. However, the road has no shortage of twists and turns. Allow extra time to reach Showdown when the road is snow-covered.
Showdown offers fine skiing, but like many other ski areas in Montana, lacks in amenities. There is no slope side lodging, 5-star hotels or fine shopping opportunities. Instead, Showdown is a ski area the way most ski areas used to be—with lift ticket prices to match. For lodging, while a limited supply of rooms can be found 10 miles away in Neihart, most visitors who will be spending a night or two find lodging in either Great Falls or White Sulphur Springs.
What Showdown ski area may lack in terms of sheer size and vertical, though, it makes up for in a nice variety of terrain. For both expert or beginner skiers, Showdowns great trail network offers plenty to explore. And, owing to the out of the way location of the ski area, crowds (and thus lift lines) are also light to non-existent except for the occasional busy Saturday during the height of the ski season when larger groups from Great Falls make their way to the mountain.
The Skiing At Showdown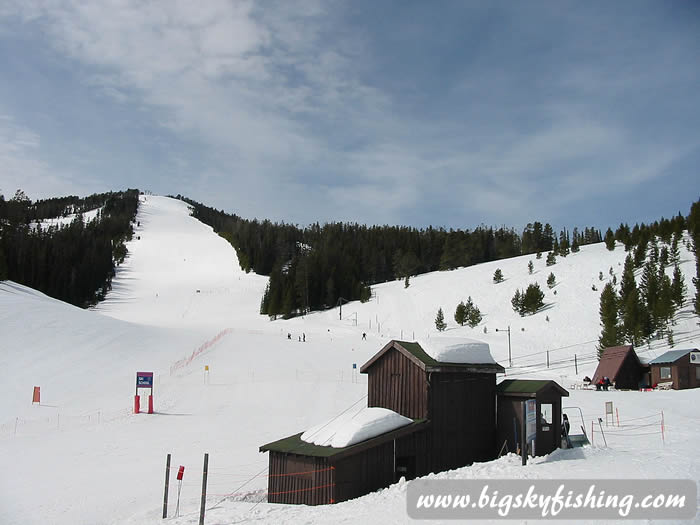 Looking to the Summit
For beginner skiers and snowboarders, Showdown is an excellent place to learn the basics. Two dedicated beginner lifts service terrain for new skiers, while several beginner runs also traverse down from the summit of the mountain. As such, beginner skiers and snowboarders will have a fun time learning the basics at Showdown. Additionally, several of the intermediate runs are wide and are not real steep in most spots (such as Quicksilver and Silverhorn), allowing for more advanced beginner skiers to explore additional terrain.
The intermediate blue runs at Showdown are excellent, comprising some of the better intermediate skiing in Montana outside of the big and expensive resorts. The intermediate runs are well groomed, have many twists and turns and also have some pretty nice steep spots thrown in for variety.
Some of the blue runs are also spared from the grooming machines, allowing for some bump terrain to develop. These intermediate bump runs have a nice but not too steep of a pitch, along with, of course, some sizeable bumps. For skiers who want to learn how to ski bumps on less than death defying terrain, these runs are a good place to start. Upper Ripley in particular is a good place to learn the basics of bump skiing provided the grooming machines haven't flattened them out.
The expert skiing at Showdown is primarily located off the Prospector Double Chairlift, which is on the southern portion of the ski area. In this area of Showdown, the top half of the mountain is quite steep, while the lower half has a gentle and at times almost flat gradient.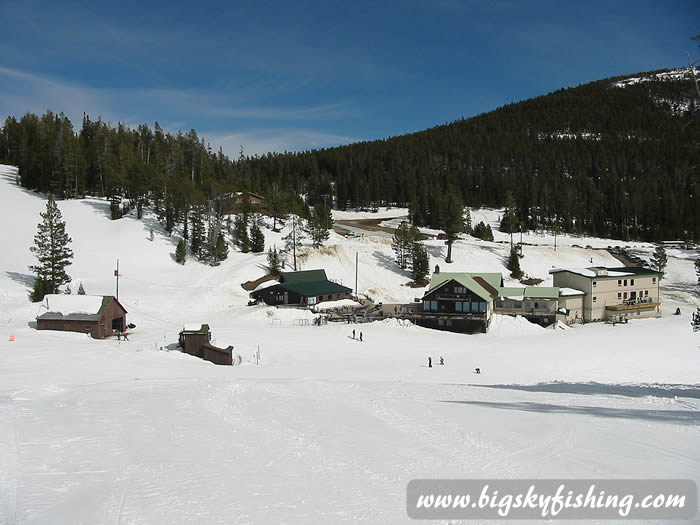 Showdown Base Area
For experts, the terrain on this side of Showdown ski area is excellent and is all accessed off the Silverhorn Trail (an intermediate trail that forms the ski areas boundary on that side of the mountain). The Dynamite and Gun Barrel trails are excellent ski runs for those who like to ski or snowboard in the trees. Right next door to these two trails are the Glory Hole, Geronimo and Good Luck trails, which are equally steep (if not steeper) and loaded with bumps.
A word needs to be said about the double chairlift that serves this terrain. First, the chair is very long; from top to bottom it is a twelve and a half minute voyage. As such, it can take a while to make it to the top. Happily, this chairlift also has a mid-station. For expert skiers, the general plan should be to ski down the trails located on the upper half of the mountain, then hop on this chairlift at the mid-station. Doing so saves a long and gradual ski run to the bottom while also saving about 7 minutes of ride time on the chair as well.
Second, and maybe it is just me, but the design of the actual chairs on this lift is less than spectacular. For whatever reason, every time I rode this chair I felt like I was on the verge of falling out of it, as the chair seemed to have a slight tilt forward and also lacked a safety bar (which is not uncommon in Montana, by the way).
A few other expert ski trails are also found at Showdown although they are relatively short. Two of these trails, Muley and Speculation, drop down from the summit on the north side of the mountain, just off the Payload Triple Chairlift. These two trails are nice ski trails, but once down them it requires a long, flat voyage to the base area to reach a lift back to the summit.
Summary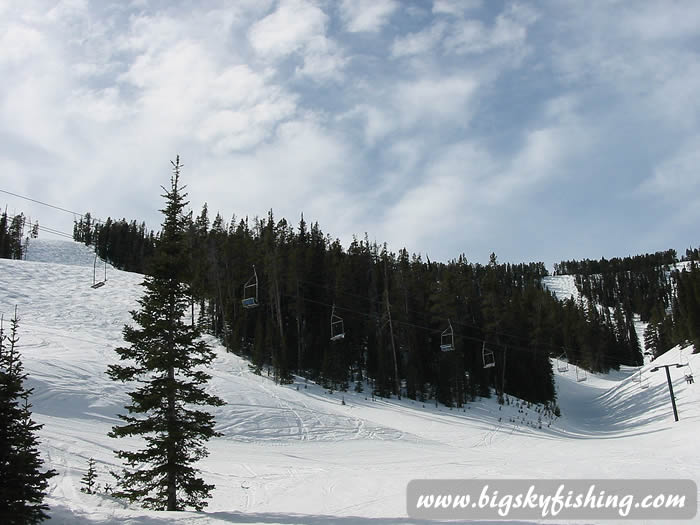 Bump Run at Showdown
Overall, Showdown ski area may never become a destination ski resort. Its location in central Montana, far away from the popular winter gateway towns, coupled with its smaller size in relation to more well- known resorts probably means Showdown will continue to receive the bulk of its skiers from nearby Montana communities. And for me, that is just fine. I personally love skiing in Montana for just this reason.
Yet for the more adventurous skiers from out of state, visiting Showdown ski area is a worthwhile trip. Showdown has a nice variety of terrain, a scenic setting and makes for a great place to learn how to ski or snowboard. And, while Showdown does sort of lie out a bit from other popular winter areas in Montana, Showdown itself is quite close to Great Falls, offering anyone visiting Great Falls a fine excuse to hit the slopes.
Mountain Stats
Snow : 240 inches
Vertical Feet : 1400
Lifts : 1 triple, 2 doubles, 1 Magic Carpet
Acres : 640
Terrain : 30% Beginner, 40% intermediate, 30% advanced/expert.
Nearest Towns : Great Falls, White Sulphur Springs
---