Camping Articles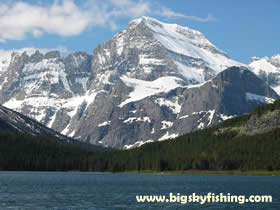 Mt. Gould in Glacier National Park
Montana isn't much different from other western states in one regard. People come from all over the place to see it - and frequently camp out for at least part of their trip while they are here.
As part of this sites Camping Guide section, I thought it would be helpful to write up a few tidbits of information that campers coming to Monana (and many other places out west too), might find helpful. Hopefully you'll find the information in these articles helpful on your next camping trip to Montana or elsewhere.
---
Camping Information
Camping in Grizzly Country - What to do and what not to do when camping in "grizzly country."
Camping & Hiking in Rattlesnake Territory - "Rattle, rattle, rattle." Once you hear that sound, you'll never forget it! Learn more about camping and hiking in rattler country.
Camping & Hiking with Your Dog in Montana - Why your dog is NOT a good trail companion in Grizzly Country!
---
Copyright 2002-2015


Big Sky Fishing.Com
---