The Marias River begins at the confluence of Cut Bank Creek and Two Medicine River, near Cut Bank, Montana. The Marias River twists and turns for more than sixty miles through rolling prairie, before spilling into Lake Elwell, a twenty-seven mile long lake formed by Tiber Dam. Although the river flows through prairie, it is still enjoyable, as cottonwood trees line its banks.
Below Tiber Dam, the Marias River continues flowing through the Montana prairie, with small sandstone cliffs and cottonwood trees marking the rivers course. The countryside below Tiber Dam is very remote. Access to the river is difficult, and the distance between access points is often considerable. From Tiber Dam, the Marias River flows for an additional eighty miles to its confluence with the Missouri River near Loma, Montana.
Fishing the Marias River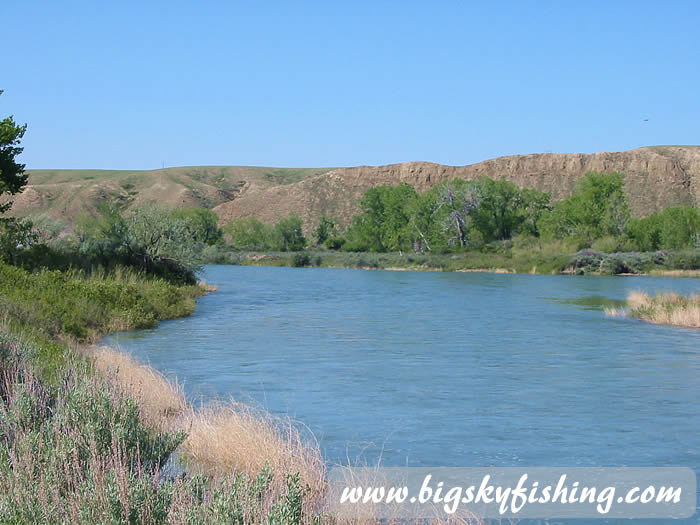 Marias River Below Tiber Dam
The upper stretch of the Marias River, between its origin and Lake Elwell (also called Tiber Reservoir), has limited trout fishing but can provide decent fishing for walleyes, bass, large catfish and lots of whitefish..
The best trout fishing will be found in the first twelve miles or so below Tiber Dam. Below the dam, large brown trout can be found in fair numbers, averaging over three pounds with some approaching ten pounds. Rainbow trout can also be found, although their numbers and sizes are well below that of the local brown trout population.
Fishing pressure is very low on the Marias River below Tiber Dam, although what little fishing pressure there is happens just below the dam.
Below the dam, the Marias River has many deep pools, some runs, a few small riffles and a number of braids. Cottonwood trees also line the bank, with an occasional downed tree providing much needed cover for the trout. The river is also quite wide and deep, limiting a wade fisherman's ability to reach the productive fishing spots on the river, which is an important consideration. Unlike some other Montana rivers that have fish seemingly crowding all along the stream bottom, the trout on the Marias River are generally dispersed. When fishing the Marias River, focus in on those deep pools and other prime waters, ignoring the rest of the river.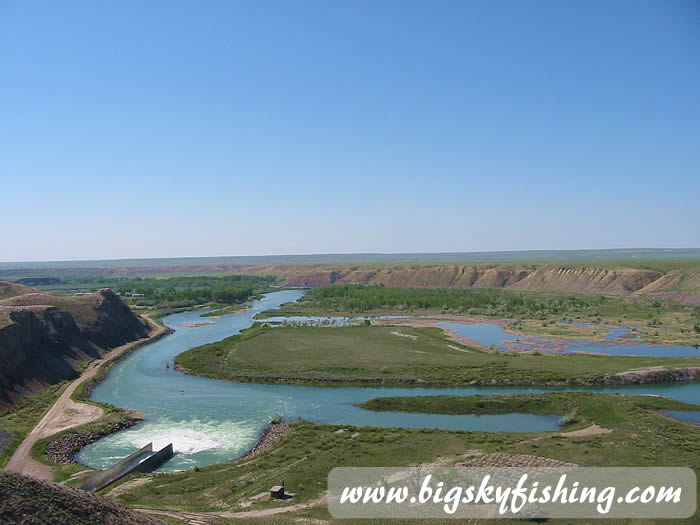 Marias River at Tiber Dam
The flies of choice for fishing this stretch of the Marias River include minnow imitations such as the Muddler Minnow. Not surprisingly, as the river runs through prime hopper country, hopper imitations become very important come mid-summer and work well through mid-September. Since fly fishing pressure is low, standard dry fly imitations also work well for the smaller fish, but are unlikely to catch the really large brown trout that are lurk in the Marias.
Beginning about twelve miles or so below Tiber Dam, warming waters, irrigation use and slower water flows hamper productive trout fishing. While some large brown trout can still be found, the Marias River turns over into a warm water fishery, with shovelnose sturgeon, walleye, pike, catfish and bass being the primary species. As smallmouth bass are lots of fun to catch fly fishing, don't rule out this stretch of the river. Use a crayfish, dragging it along the bottom.
River Miles
Listed below are selected river miles for the Marias River, from its source to its confluence with the Missouri River near Loma, Montana.
Origin : 107
Shelby Golf Course : 142
Old Highway 91 Bridge : 140
Highway 417 Bridge : 117
Tiber Reservoir Inlet : 107
Tiber Dam : 80
County Road Bridge : 75
County Road Bridge : 69
Highway 223 Bridge : 60
Rudyard Road Bridge : 39
Highway 87 Bridge : 2.4
Confluence with Missouri River : 0
---
---
Fly Fishing Books
Guide to Fly Fishing Knots - An easy to use an in-depth guide to tying knots used for fly fishing.
Reading Trout Water: 2nd Edition - Learn how to find trout by studying currents, temperatures, oxygen levels, and food sources. Covers every water type--riffles, runs, pools, flats, pocket water, bank water.
Related Articles & Information