Montana State Travel Guide : Overview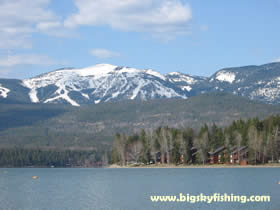 Big Mountain and Whitefish Lake
Tourism is one of the primary industries in Montana. People flock to Montana from all over the place to take advantage of the state's beautiful scenery, excellent fishing, superb hiking and backpacking trails and legendary hunting. To give our visitors a better idea of what Montana is like, as well as to help them plan a trip here, I've prepared a travel guide about Montana.
If you are looking for specific city or town information, visit our Montana City Travel Guide section.
Note : This section still needs some work, so be prepared for some "inconsistencies" in navigation and the occasional dead page!
Montana State Travel Guide Categories
Montana Stream Access Law : If you are visiting Montana, it pays to know the Montana Stream Access Law so you don't run afoul of landowners.
General Fishing Information : This site is dedicated to fishing. But, we've prepared on simple page that lists some basic information anyone who plans of fishing will want to know about. You can also view our River Fishing, Lake Fishing and Mountain Fishing sections for much more information about individual waters.
Montana Newspapers & TV Stations : Listings of all the Montana newspapers and TV Stations I've been able to find. Helpful if you want to read some news about Montana before coming out here.
Montana Weather : Montana is famous for crazy weather. Learn all about it in this special section.
Montana Web Cams : Complete listings of ALL web cams in Montana, from Glacier to Dave's back deck.
Montana Trip Planner : A special section to help someone plan their trip, online, to Montana. A very helpful section that can save you loads of time, and money too, when charting out your vacation to Montana.
---