Montana Ski Areas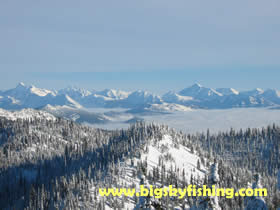 Glacier National Park seen from Whitefish Mountain Ski Area
Montana has excellent downhill skiing at more than a dozen ski areas. One of the reasons I moved to Montana in 1999 was to take advantage of the great downhill skiing opportunities on big mountains with lots of snow. And, I must confess, I haven't been disappointed.
So, as part of the sites travel guide, I decided to put together information and pictures of the various downhill ski areas in Montana, complete with my own little ski area reviews.
For those who have visited other "ski guides" on the net, you'll notice one striking differrence between this guide and all the others. These "other web ski guides" generally are just copy and paste boiler plate information - frequently taken from the actual ski resort websites. In short, most of these ski guide sites generally add nothing new.
This Montana ski guide, though, is different. All the ski areas listed below I have personally visited and skied at. All the content and reviews is original as are the pictures. In short, unlike other web ski guides out there, it is my hope that you will actually find this Montana ski guide useful in planning a Montana skiing trip.
This Montana ski area guide on Big Sky Fishing is far from complete. As I visit additional Montana ski areas and grab pictures I'll post them up on the site. However, taking pictures of the skiing in Montana is not always easy due to poor photography conditions - thus, it may be a while before this section is entirely done.
---
Montana Ski Areas
| | |
| --- | --- |
| | Big Sky Resort : Big Sky is the premiere destination ski resort in Montana. With more than 3600 acres and a huge variety of terrain, Big Sky is well worth the rather expensive price of admission. |
| | |
| --- | --- |
| | Blacktail Ski Area : Blacktail is the newest ski area in Montana. Located in Lakeside, Blacktail is a great place for family skiing. It is also very affordable. |
| | |
| --- | --- |
| | Bridger Bowl Ski Area : An exceptional ski area near Bozeman. Affordable lift tickets combined with killer terrain make Bridger Bowl a must place to go. |
| | |
| --- | --- |
| | Discovery Ski Area : A wonderful ski area that is seldom used by out of state visitors. Has some excellent skiing at affordable prices. Located near Georgetown Lake. |
| | |
| --- | --- |
| | Great Divide Ski Area : A surprisingly large ski area that has a huge network of trails and superb diversity. Located just a 30 minute drive from Helena. |
| | |
| --- | --- |
| | Montana Snowbowl : Snowbowl is an excellent ski area that has extensive glade sking, too. It is located less than 10 miles from Missoula. |
| | |
| --- | --- |
| | Moonlight Basin Ski Area : Montana's newsest ski area, located conveniently right next door to Big Sky Resort. A nice and upcoming ski area. |
| | |
| --- | --- |
| | Showdown Ski Area : An affordable and very nice ski area located in the Belt Mountains of central Montana. |
| | |
| --- | --- |
| | Teton Pass Ski Area : A great little ski area tucked away in a quiet corner along the Rocky Mountain Front, near Choteau. |
| | |
| --- | --- |
| | Whitefish Mountain Ski Resort : Whitefish Mountnain, formerly known as Big Mountain, is located in Whitefish and once upon a time was a local ski hill. Today, it is a sprawling resort that, despite the crowds, still has good downhill skiing - particularly tree skiing - if you can afford it. |
Montana Ski Area Pictures
---