Campground & Propane Stoves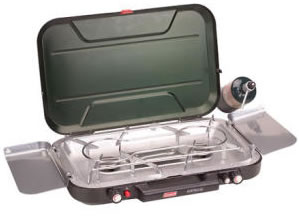 Your Typical Camground Stove. This one is from Coleman...by far the most popular brand.
Camping and food go hand in hand. Which is why, of course, it's a bummer if you don't have anything to cook your food on.
True, there is something romantic and alluring about cooking your food over a campfire. Until fire restrictions prevent use of campfires. Or until you bite into dinner cooked over a fire...discovering that part of it is half-rare while the other half is burnt. Or until clean-up time arrives...and you realize what a mess cleaning up "camp-fire" cookery often is. Get the picture?
In other words, if you plan to do any camping anywhere, a camp stove is a necessity. And for campground use, nothing beats the tried an true propane (some are now dual-fuel, too) stove...particularly those from Coleman. Shown below are some stoves that work well for "general camping uses." All these stoves are available through Backcountry.Com.
---
Copyright 2002-2012


Big Sky Fishing.Com