Backpacking Tents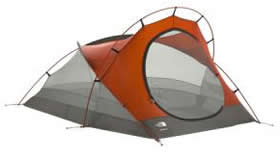 A lightweight backpacking tent, seen here is the Tadpole from The North Face

If you plan on heading into the backcountry and spending the night, a backpacking tent is darn right mandatory. Believe me when I say that the last thing you want to carry on your back is a 10 pound tent, especially if your travels take you up big, long hills.

In essence, a backpacking tent is a lightweight tent designed to be BOTH portable (packable) and very light. In general terms, a backpacking tent for two people should weigh no more than 6 pounds (and the less the better) and still pack down to a size smaller than 10x20 inches (which allows it to fit nicely on or even inside a backpack).

For three season use, when choosing a backpacking tent, try to get one with LOTS of mesh. The mesh allows for superb air circulation - something needed in these small tents. And secondly, the more mesh a tent has, the lighter it will be. Also be sure that the rainfly has a nice vestibule on it - one that is at least 5 square feet (the vestibule is where you store your gear or cook when it is raining).

Additionally, I highly recommend getting a backpacking tent that is free standing. Most are, but a few still aren't. By getting a free standing tent, you'll have far greater flexibility in where to set up the tent as well as an easier time of setting it up to begin with.
---