How to Select a Backpacking Tent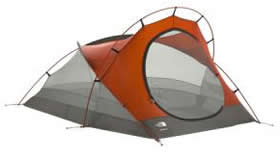 A lightweight backpacking tent, seen here is the Tadpole from The North Face
If you plan on hiking in the backcountry, you will want to do yourself a favor and leave your typical "car camping" tent at home. OK. You can use your typical Wal-Mart tent on the trail. However, these tents are large, bulky, and heavy. And trust me, they are absolutely no fun whatsoever to carry on a long backpacking trips.
Instead, do yourself a favor and get a backpacking tent if you plan on doing overnight hikes in the backcountry. As the name implies, backpacking tents are used for camping in remote areas that only can be reached by hiking. Since you will be the one carrying a backpacking tent - usually for many miles over many days - a good backpacking tent is designed to be light, not too bulky, durable and not necessarily comfortable.
As a general rule, a backpacking tent should compact into a very small stuff sack and be light - not exceeding six pounds, and preferably less, for a 2-person tent. A good backpacking tent will also have a vestibule. A vestibule is an " enclosed overhang" of the tent, so to speak, that allows you to store stuff outside of your tent while still keeping it dry. A vestibule is also used for cooking in wet weather.
---
Vestibules for Backpacking Tents
How important is a vestibule? It depends on where you will be backpacking. If you will be backpacking in wet climates, a large vestibule is very important since it expands the amount of tent space you have. However, if you are camping in a dry climate, a vestibule does little but keep the dew off your things in the mornings. Generally, at least in my own opinion, the bigger vestibule you have - the better.
---
Backpacking Tent Poles
Any backpacking tent you get should use aluminum poles, not fiberglass. The reason for this is because aluminum poles are stronger AND ligher than fiberglass and also do not get a case of the "bends." Besides being heavy, fiberglass poles, over time, will develop a "bend" in the poles, reflecting the bend in the poles when the tent is pitched. This doesn't seem like a big deal at first - until you try to stuff the poles in the small stuff sack that comes with the tent.

Moreover, fiberglass poles tend to be significantly weaker and can easily crack if you put too much pressure on them when setting up the tent. By contrast, you REALLY have to work at it to break an aluminum pole.

Backpacking tents use 1-3 poles, depending on their design. In terms of weight, the fewer the poles, the better. The reason for this is because the tent poles tend to be the heaviest part of the tent. Thus, for a light tent, get a tent with fewer poles. That said, also remember that three short tent poles may equal the weight of two long tent poles - thereby giving you no weight savings whatsoever.

Lastly, you always want to get a backpacking tent that is freestanding. Virtually any tent that has 3 poles will be fully free-standing. Many tents that use 2 poles also will. However, there are a few non-freestanding tents out there. So be careful. You want to get a free standing tent because they provide far more flexibility in where you set them up. They are also easier to set up too.
---
Wamth or Breeze?
One consideration that a person shopping around for a backpacking tent needs to be aware of is what kinds of camping they will be doing. You see, backpacking tents (like all tents), have walls. These walls may either be solid (thus no windows or breeze will come through them) or they may be made out of mesh (allowing for a view and for the breeze to come through).
If you primarily will camp out in warmer weather, then by all means get a tent with lots and lots of mesh. In general, for warm weather camping, the more mesh, the better - as the tent will be significantly cooler.
On the other hand, for lots of high altitude three-season camping, a tent with a more solid wall system may be desireable as it will keep the tent significantly warmer at night. It will also reduce any night-time mountain breezes that happen to be on the cool side, too.
---
The Quality of Backpacking Tents
Please remember, when you are backpacking in a remote area, your tent is a vital piece of equipment. Should your backpacking tent fail, your backpacking trip is likely to go sour very quickly - especially if the weather turns bad.
A quality backpacking tent will have a lifetime warranty and will not fail when you need it the most. A quality backpacking tent also will not leak during heavy rainstorms, won't break or fall down during high winds, and will even withstand light snowfalls. A good backpacking tent will not be cheap - but by getting a quality tent now you will never have to get another tent and will not have to worry about having a vital piece of equipment fail while in the mountains.
---