Montana Jobs & Employment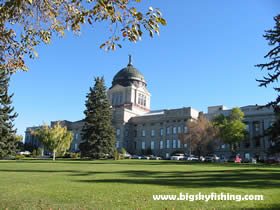 The State Capitol in Helena. State Government is one of the larger employers in Montana.
If you've read the previous page about Montana Jobs, you may have come away rather dismayed about employment prospects in Montana. And truthfully, they aren't the best - at least for higher paying jobs.
However, Montana does have a relatively low unemployment rate. And a wide variety of jobs do exist - not just in huge numbers.
To help prospective job seekers, this page contains links to the websites of what I label some of the "major employers" in Montana. See the Montana Jobs page for links to other job resources in Montana (such as the Job Service, etc..). Please keep in mind this is far from a complete list (not all major employers even have web sites) - although it does make a good place to start.
Major Montana Employers
State and Federal Governmental Jobs
County & City Employment
Transportation Jobs
Technology & Printing
Health Care Jobs
Major Montana Ski Areas
Forestry and Timber
"Montana Only" Banks
Montana Universities
Montana Utilities
---