Montana Aerial Photos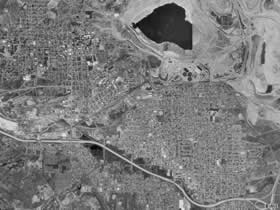 Aerial Photograph of Butte
Montana, as seen from space, is pretty neat. Viewing the mountains, cities, roads and rivers in Montana from space provides some wonderful views and provides a completely different perspective on any given location.
As such, I decided top put up some aerial photos of various places in Montana. These aerial photos are all from the USGS and were created on the Terraserver, which is partially run by Microsoft.
These aerial photographs are all public domain images - so you can use them as you see fit. However, please do not hotlink these images from bigskyfishing. Instead, just "right click" and then save the image to your local computer.
Note, clicking on any of the links below will bring up the aerial photograph in a new window.
---
Aerial Photograph of Montana Cities
West Yellowstone Aerial Photograph
---
Other Montana Aerial Photographs
Big Mountain Ski Resort Aerial Photo
Montana Hi-Line Aerial Photographs & Maps : Aerial photos and maps show the beautiful Hi-Line region of Montana
---