The rivers of eastern Montana do not rate with visitors who visit Montana in search of trout. And it is for good reason. Except for a few scattered pockets, trout fishing is non-existent in the rivers located in the eastern part of Montana. The reason for the lack of trout fishing is simple; the rivers are too warm. By the time the water flows from the mountains into the vast Montana prairie, the flows have slowed and the water has become far too warm for productive trout habitat.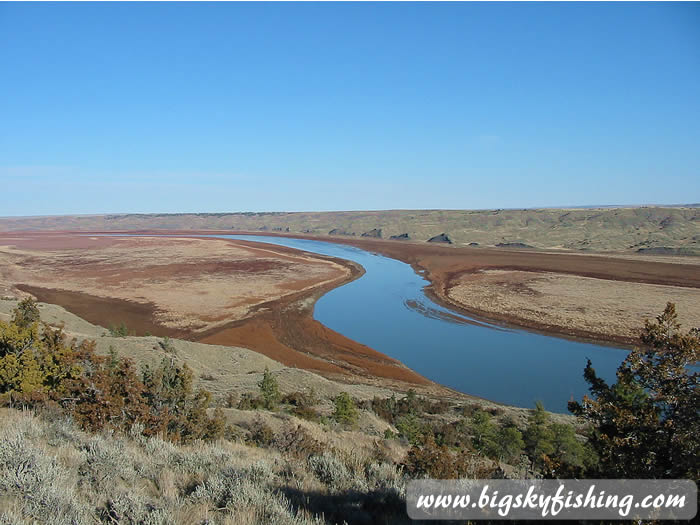 Lower Missouri River
Instead, other than a few trout-fishing pockets located near tributary inlets and dams, the rivers in eastern Montana are home to various warm water species of fish, such as walleye, catfish and smallmouth bass.
The rivers in eastern Montana are lack the mountain splendor found elsewhere in the state. While the rivers in eastern Montana are scenic in their own way, and are beautiful in the fall, the lack of mountains and the vast sweep of the treeless prairie create less than inspiring vistas for most out of state visitors.
Still, any angler on a Montana fly fishing trip who arrives by car will likely be driving by the Yellowstone River or the Missouri River at some point. Anglers who possess the necessary tackle should definitely consider spending some time trying their luck to catch some of the very large smallmouth bass and huge catfish that lurk in these rivers. Smallmouth bass, in particular, are wickedly fun to catch on a fly rod.
Additionally, the rivers in eastern Montana are rich in history. Lewis and Clark went up the Missouri River for its entire length and came back down the Yellowstone River for its entire length. Thus, a trip to one of these two rivers can provide not only rewarding warm water fishing but also allows the visitor to experience a small piece of Montana's colorful history.
Finally, the Yellowstone River and the Missouri River in eastern Montana both offer awesome river floating potential. Extremely long floats, measured in weeks, are possible along both the eastern Missouri and in particular the eastern Yellowstone. Moreover, as a bonus fringe benefit, eastern Montana is rich in wildlife, wildlife that is frequently found right along the major rivers.
Overall, eastern Montana is not set anytime soon to become a magnet for anglers seeking a fishing trip of a lifetime. Montana just has too many good trout waters, with the result being that warm water fishing is often ignored by everyone but the locals. However, a trip into the eastern Montana prairie is unique in its own way. By getting off the Interstate and driving some of the back roads, a visitor can truly get away from it all development and fish seldom-fished waters without the crowds found in many other areas of Montana.
River Flows
View Current River Flows for Missouri & Yellowstone Rivers
---
Related Articles & Information
---
Fly Fishing Gear on Sale