Great Falls Hotels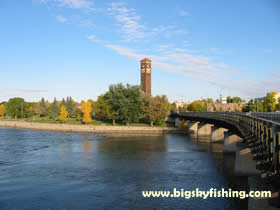 The Restored Chicago, Milwaukee, & St. Paul Railroad Tower and the Missouri River
Photo Use Policy
Great Falls, like any city, has plenty of hotels, motels, restaurants and such. During the tourist season (July and August), the town can fill up quickly. Admittedly, it's not because everyone is flocking to Great Falls to see the city. Instead, Great Falls is the nearest town of any size to the eastern side of Glacier National Park, which lies about 120 miles away. As such, Great Falls receives quite a few people just passing through.
Thus, if you plan on "passing through" Great Falls on your way to Glacier National Park, keep in mind all these other people will be too. In other words, if you know when you'll be "passing through", make a hotel reservation or motel reservation in advance - otherwise, you're likely to end up down in the park along the Missouri River sleeping in your vehicle (which isn't a bad way to do things, actually).
Here's some listings of hotels and motels in Great Falls, Montana.
---
Loding in Great Falls, Montana
This is an excellent hotel located right on the green belt in Great Falls. The hotel has an excellent location, with the Missouri River located right out back behind the hotel (along with walking and biking trails, too.). This is where I always try to stay at when in town. Judging by the amount of people who stay here, other people apparently feel the same way, too!
Amenities include coffee maker, connecting rooms, hair dryer, ironing board, Truck/RV Parking, Whirlpool.
The Best Western Heritage Inn is a full service hotel located in Central Montana's scenic russell country with something for everyone. On site facilities include a casino, bar, coffee shop, meeting rooms, indoor pool, gift shop, game room, restaurant, solarium and whirlpool.
Amenities include front desk, vending machines, non-smoking rooms, cable-tv, exercise room, guest laundry.
Amenities include front desk, vending machines, non-smoking rooms, cable-tv, Truck/RV parking.
Amenities include all the typical things found in a Howard Johnson's. Located on Central Avenue, the hotel is located off the busy strip that most of the towns other hotels are located on.
Next Page : Great Falls Pictures
Related Articles
Web Resources
| | |
| --- | --- |
| Copyright 2002 - 2018 Big Sky Fishing.Com | |