Inflatable Kayaks v. Inflatable Rafts

Choices, choices, choices! If only money was no object, so we all could have an inflatable kayak AND an inflatable raft sitting in our garage. But alas, money is unfortunately an object and all too few of us can afford both a kayak and a raft. So it becomes necessary to figure out what type of boat will work best for our uses.
And hence the purpose of this page, to help anyone figure out whether they should get an inflatable kayak, an inflatable raft or perhaps even a dedicated fishing-only type boat like a pontoon boat. So, let's get started.
---
The "Inflatable Boat" Grid
Let's start with "the grid" which splits up the boat types into their uses. The ratings should hopefully be self-explanatory.
| | | | | | | |
| --- | --- | --- | --- | --- | --- | --- |
| Boat Type | Whitewater | Portability | Lake Fishing | River Fishing | Ease of Use | Capacity |
| Inflatable Raft | Good | Very Good | Fair w/out Motor | Very Good | Excellent | Excellent |
| Inflatable Kayak | Excellent | Very Good | Very Good | Very Good | Excellent | Very Good |
| Catamaran Kayak | Very Good | Fair | Excellent | Excellent | Good | Very Good |
| Pontoon Boat | Fair | Poor - Excellent | Excellent | Excellent | Average | Fair |
| Float Tube | Awful | Excellent | Poor - Excellent | Awful & Dangerous | Good | Poor |
---
The Grid Deciphered
OK. Let's decipher this grid and flush it out a bit more.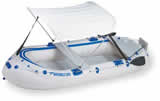 An inflatable raft, with a "canopy" option
Inflatable Rafts : For lake fishing (not including small ponds or very small lakes), find a different boat if you don't plan on using a motor. Rowing a raft is a pain in the you know what over long distances - all the more so if it is windy. Otherwise, inflatable rafts are superb boats for all-around use. They'll go through Class III whitewater (moderate sized waves), but not Class IV whitewater (drops, ledges, very large waves). Easy to setup. Durability is very good, but not as tough as an inflatable kayak. However, they are easy to fix "on the water" in the event you manage to poke a hole in the boat (which is NOT easy). Huge capacity - even small rafts have a capacity of around 1000 pounds. Great if you have lots of gear! Good fishing platform but not as good as a pontoon boat. Very portable and quick to setup!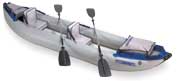 An inflatable kayak
Inflatable Kayaks : My favorite boat! OK. I'm biased. But it's true. Inflatable Kayaks are just great boats for people who need an all-around boat for all types of waters. Exceptionally tought - made of the same material found on guide-quality rafts used to float the Grand Canyon. Less capacity than a inflatable raft (usually around 500-700 pounds), but more than enough for two people plus gear. They are also the IDEAL one-person boat for long float trips with hundreds of pounds of gear. Kayaks that are self-bailing will handle Class IV whitewater. Others will handle Class II or III whitewater. Good fishing platforms, but not as good as a pontoon boat. At home on the lakes and the rivers. Exceptionally portable and easy/quick to setup!

A Catamaran Kayak
Catamaran Kayaks : A bit more cumbersome to set up than an inflatable kayak or raft. Very good in whitewater but not quite as maneuverable as an inflatable kayak in fast, moving water. Ability to have a motor and/or sail put on it! Superb for lake fishing and paddling - as the rowing frame and pontoon design makes it easy to cover water fast. Excellent fishing platform due to elevation and comfy seats. Equal to a pontoon boat in terms of fishing. Good capacity - better than a pontoon boat but not as much as an inflatable raft. Moderately portable - more parts to put together and is rather heavy due to rowing frame and pontoon style of design.
A Pontoon Boat
Pontoon Boat : The best all-around fishing platform that is also affordable. Not especially enjoyable for general river floating as they aren't nearly as comfortable as an inflatable kayak or raft on longer floats. Whitewater is limited, Class I or Class II ONLY. A handful of boats do Class III & IV, but they are rare and expensive. Excellent boat for lake fishing. Somewhat lacking in portability, unless you get the backpackable type. Real big pontoon boats require a trailer. Capacity generally around 300 pounds. Not suitable for long, overnight river float trips or where you need to bring lots of gear.
A Float Tube
Float Tubes : Good boat (or should I say "platform"?) for fishing small ponds or for backpacking into remote waters. Beyond that, stick with a dedicated boat. And NEVER use a float tube on a river, especially one with rapids. Unless you enjoy drowning. Horribly tiring to use on larger bodies of water. Best used on small ponds and very small lakes.
---
So, What Should You Get?
That's the question, isn't it. Well, I'll make some recommendations. Take them for what they are worth. And remember, what kind of boat you require depends ENTIRELY on what you will use it for. Also note, "River Running" below means recreational floating on a river, in flat water AND in rapids.
Boat for River Running AND River Fishing and Lake Fishing
This is easy. Get an inflatable kayak. End of story.
Boat for River Running and River Fishing
Another easy one. Get an inflatable kayak or a catamaran kayak if you plan on floating through Class IV whitewater. Otherwise, an inflatable raft or less expensive version of an inflatable kayak will work just fine for Class III whitewater and below.
Boat for River Fishing ONLY and not overnight
Get a pontoon boat. Get an inflatable kayak if you plan on camping out overnight and need to take your gear with you.
Boat for Lake Fishing ONLY
Get a pontoon boat or, if you're lazy, an inflatable raft with a motor. Inflatable Kayaks and Catamaran Kayaks work well, too, but still aren't quite the fishing platform the pontoon boat is.
Fishing Small Ponds
If you don't mind buying waders and getting wet, get a float tube. It's the most affordable and works well on small waters. Otherwise, go with a inflatable kayak or pontoon boat. If you have to pack the boat into the pond, go with a kayak or one of the newer packable pontoon boats (not a full size pontoon boat).
Fishing Very Remote Waters
Two choices here - a float tube or a backpackable pontoon boat. A small inflatable kayak also works well, too.
---
Copyright 2002-2015


Big Sky Fishing.Com
---