Cots for Camping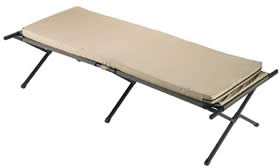 Few things beat a cot for sleeping on while camping in the Great Outdoors
Cots are about as close as you can get to having your bed in your tent. Yet, all cots are not created alike. Indeed, more than a few people, myself included, have spent long, miserable nights on very uncomfortable cots. Because of this, I've put together a few things you might want to follow when shopping around for a cot.
Cot Pad - Make sure the cot either comes with a cot pad (or an air bed) or has the ability to have one added. The reason? Wamth! Without a cot pad (or at least extra thick padding), cold air will invade your "sleeping space" from the bottom, making you cold. In essence, in terms of warmth, sleeping without a cot pad is like sleeping on the ground without a sleeping pad!
Cot Pad or Airbed on top of the cot? - You have two choices here. The cot pad is easier to use and more durable. The bad news is that they can be bulky. An air bed will fold down flat once deflated. Both work equally well in terms of comfort and warmth. If space is at a premium, get an air bed for the top. Otherwise, go with a cot pad.
Cot Accessories - Some cots come with a bewildering array of accessories you can attach. These can be ideal for extended camping stays (such as at your hunting base), but kind of a pain to use for just the occasional one day use. So if you use the cot a lot, consider making sure it can take these accessories. Otherwise, you can probably pass on it.
---