Air Beds for Camping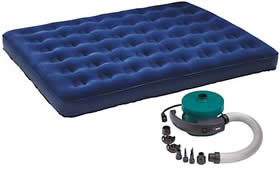 Air Beds bring the comfort of your home mattress to the outdoors.
I'll be the first to admit it, but air beds are down right wonderful for car camping. They are easy to inflate and nearly as comfortable as your home mattress. For this reason, if you spend lots of time car camping and want something comfortable to sleep on, a airbed is a very good choice. Additionally, air beds are also superb "second beds" for your home.
Airbeds are very, very easy to inflate. With a bellows pump, just start inflating until they are about 3/4 full (you don't want the bed to be "rock solid"). Inflation time for a Queen size bed will be around 10 minutes.
---