Yellowstone River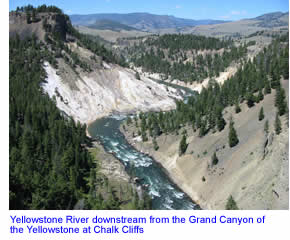 When fly fishing this thirteen-mile section of river, an angler is confronted with a dizzying array of choices to choose from. Solid hatches of mayflies, caddisflies, stoneflies, midges and salmonflies all occur on this short section of the Yellowstone River. Terrestrials are also found all along the river in this section, grasshoppers and beetles in particular. This section of the Yellowstone is a good place to match the hatch, so plan on bringing along plenty of varied fly patterns and selections. Study the river closely to determine what the fish are feeding on, although casting hopper and beetle imitations also work extremely well if frustration with matching the hatch occurs.
The Yellowstone cutthroat trout in this section receive a fair amount of fishing pressure due to its easy access and the rivers reputation for producing consistently large fish. As a result, they can be difficult to catch, particularly later in the season. Good presentations, a careful approach and light tippets should be used to increase the chances of success. Additionally, always aim for a drag free float, using shorter casts if needed to eliminate drag.
When fishing on the section of the Yellowstone River, be aware of the varied fishing regulations. Listed here are general regulations. However, be sure to check the park website listed below for complete and up to date information, as these regulations can change frequently and without notice.
General Regulations governing the Yellowstone River between Upper Falls and Yellowstone Lake:
Season begins July 15.
Catch and Release Fishing Only
Closed to fishing one mile downstream of Fishing Bridge and also upstream one quarter mile
Yellowstone River in Hayden Valley, as well as its tributaries, are closed to all fishing between Alum Creek and Sulphur Caldron
Closed to all fishing one hundred yards upstream and downstream of Le Hardy Rapids.
The entire west channel of the Yellowstone River near the road at Buffalo Ford.
Any lake trout that somehow happen to be caught (very unlikely - but anything is possible) must also be killed and reported to a park ranger office.
The Yellowstone River is also closed to all fishing in the Grand Canyon of the Yellowstone

Before venturing to Yellowstone National Park to fly fish the Yellowstone, it is highly recommended that an angler visit the parks website for the latest in regulations. The park frequently closes rivers to fishing due to high water temperatures (happens frequently on the Madison, Firehole and Gibbon Rivers in the summer) and other factors. View current Yellowstone National Park Fishing Regulations.
Below this thirteen-mile stretch of water, the Yellowstone River goes over two spectacular waterfalls (Upper Falls and Lower Falls) and then heads into a deep canyon, called the Grand Canyon of the Yellowstone River. Awesome views of this section of the Yellowstone River can be obtained from one of the many scenic observation points located near Canyon Village.
The first real chance to fish the Yellowstone River below the Grand Canyon of the Yellowstone occurs at the highway bridge near Tower. Here some good trails head down to the river and follow the river up and downstream, allowing for decent access. The primary fish found in this stretch will be rainbow trout, brook trout and an occasional brown trout.
Once the Yellowstone River emerges from the Grand Canyon of the Yellowstone River, it continues flowing through big mountains and periodic canyons before crossing under a highway bridge and then entering another remote and big canyon - Black Canyon. Access is extremely difficult on this section and few people ever venture out to fish this part of the Yellowstone River. Besides its remoteness, rattlesnakes, bears and other natural dangers await any anglers heading into Black Canyon. The river itself is a roiling river full of fast rapids, drops and constant whitewater.
Overall, the Yellowstone River in Yellowstone Park offers incredible fishing opportunities for anglers who seek wild native Yellowstone cutthroat trout - in a beautiful setting. An angler venturing to Yellowstone National Park can either choose to fish where access is easy and the fishing good or can head up into the beautiful and remote areas of the Yellowstone headwaters where pressure is nil and solitude is literally guaranteed. Regardless of where a person decides to choose to fish the Yellowstone River, the scenery, wildlife, the uniqueness of Yellowstone Park and quality of fishing will produce a memorable fly fishing experience.
Note, the Yellowstone leaves Yellowstone Park and flows into Montana. I've profiled a separate section of this site...the Yellowstone River in Montana.
---