Yellowstone Lake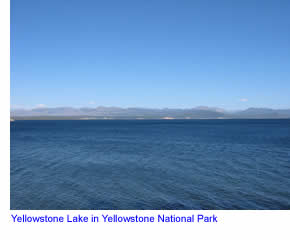 Yellowstone Lake is a beautiful, crystal clear lying in the Southeast section of Yellowstone National Park. The lake itself receives very little fishing pressure - even though various highways more or less follow the lakeshore for more than 29 miles. The reason is simple. Most people visit Yellowstone National Park either to fish its high quality rivers or to take in the sights. Fishing such a large lake just doesn't seem to be a popular activity.
Which is just as well. Yellowstone Lake has an excellent population of native cutthroat trout. Strict fishing regulations have steadily improved the size and numbers of these feisty trout, although the recent discovery of lake trout in Yellowstone Lake is like to pose some long-term management problems. Currently, an angler is required to kill any lake trout that are caught - as these fish are predatory and do pose a major threat to the native cutthroat trout.
Most of the use on Yellowstone Lake is for pleasure boating. It's a beautiful lake and for the few who either drag their boat from distances afar or who dock their boat for the summer at Lake Village, it provides a stunning lake for recreation.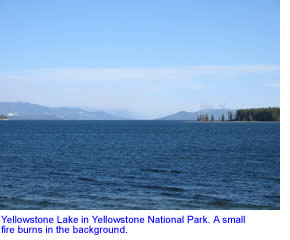 Despite the huge size of Yellowstone Lake - it is over 87,000 acres with more than 110 miles of shoreline - quality fly fishing for cutthroat trout can be obtained fishing from the shoreline. Cutthroat trout, often of very good size, can be located right along the shoreline. The reason the cutthroat trout are generally found along the shoreline is because the bulk of all aquatic insect activity occurs in the warmer, shallower and protected waters found on the shore. Yellowstone Lake is too big and too cold to support solid aquatic activity over its entire surface.
In addition to fishing from shore, a boat or float tube does come in handy to chase down the trout that are found too far from shore to catch. A boat is also indispensable to easily reach areas that are found away from the roads - although hiking trails follow the lakeshore for most of its length. Just be wary of the winds - they can be very strong on this large lake.
Parts of the forests surrounding Yellowstone Lake were heavily burned in the fires. The most heavily burned areas are found on the west side of the lake, around West Thumb.
---