Trout Stream Screensaver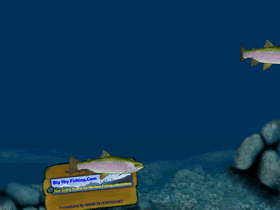 Snapshot of our Screen Saver

We now have a customized, free screen saver now available for download on bigskyfishing. This screen saver, which was developed by www.riverfish.net, features several very nice moving trout underwater.

I downloaded and installed the screensaver on my own computer (which uses Windows XP Pro), and have had no problems with the program. It doesn't crash the computer, hog resources or install any hidden files or spyware programs. In short, it's a safe, free download with no strings or hidden things attached. Note : This screensaver is for Windows machines - it won't work on a Mac, sorry!

To download, just CLICK HERE. The screen saver program downloads in a zip format (550 kb in size). Once you are done downloading the file, just unzip the program and install it.

Note, installing the screen saver will make it your default screen saver. You can always change it back to whatever you were using if you don't like it. To do this in Windows, just right click on the desktop, go to properties and then click on the "screen saver" tab. Then choose whatever screensaver you want from the drop down box. Our screen saver is labelled "Big Sky".

Download the Big Sky Fishing.Com Screen Saver.

If you have any problems with this screensaver, please let us know so we can correct it.
---
Tea Discussion.Com - A website for people who love tea (a new site I've recently launched and still needs some work)
---