The Sorel Cold Mountain Boot is a great all-around snow boot. Like other Sorel boots, this boot has a full 100% rubber bottom, meaning that it is exceptionally easy to clean and 100% waterproof.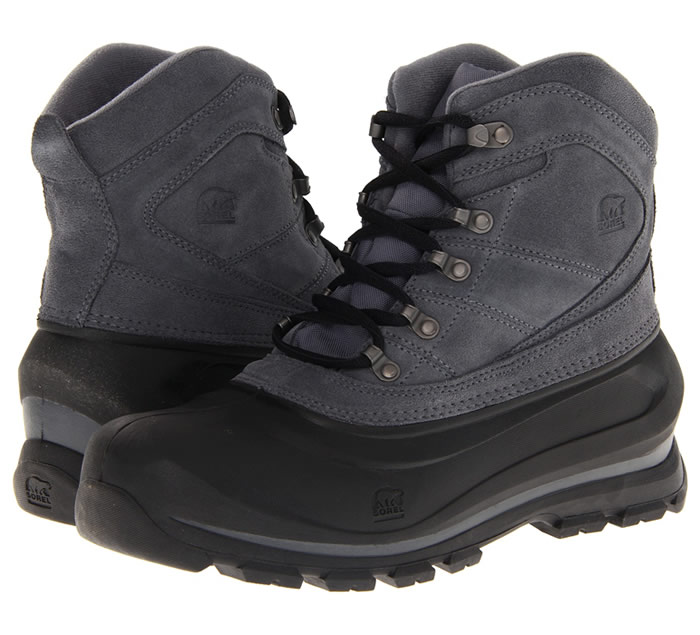 The Sorel Cold Mountain Boot
However, unlike some other Sorel boots, this boot does not have a tall shaft heigh and is cut low around the ankle. What this means is that the boot is not meant for use in deep snow, since snow will be able to enter around the ankle. However, the low-cut makes the Cold Mountain much more comfortable for day to day wear and also significantly easier to get into (especially in comparison to the Sorel Conquest Boot).
Perhaps the best way to think of the Cold Mountain is that it is an excellent cold weather walking/hiking boot where there is no need to tromp through deep snow or wade through water. The lightweight of the boot makes long distance walking a joy, and the excellent traction prevents slips and falls.
Overall, I really like the Sorel Cold Mountain boot. It is very comfortable for day to day use, 100% waterproof on its bottom and is in general just a perfect boot to be used in muddy, slushy conditions. Just don't use it in deep snow or where there is the possibility of ending up in relatively deep water.
---
Where to Buy & Prices
The Cold Mountain isn't as common in stores (online and off) as some other Sorel products. Still, my favorite place to purchase footwear, Zappos, usually has the full compliment of sizes and colors of the Cold Mountain boot. For those not familiar with Zappos, they are owned by Amazon and provide free shipping on all orders as well as free return shipping, with a 365 day return policy.
The Cold Mountain is generally priced around $100, although Zappos often sells them for less.
Buy the Sorel Cold Mountain Boot for Men at Zappos
Other online retailers where the boot may be available include Amazon, Backcountry, Cabela's, Shoes.Com and Shoebuy. Important note when purchasing through Amazon. If you buy footwear through one of the "third party sellers", the purchase does not qualify for free return shipping. Additionally, since Amazon owns Zappos, the prices are almost always identical.
---
Basic Boot Information
Temperature Rating : -25 F.
Colors Available : Mulitiple colors, changes yearly.
Weight : 1 lb 14 oz.
Snow Cuff : No
Bottom : Handcrafted waterproof vulcanized rubber shell.
Upper : Water resistant suede.
Waterproof? : Yes
Replaceable Liner? : No
Sizes Available : 7 to 15 (men), whole and half sizes.
Other Notes : For men only
---
Advantages of the Sorel Cold Mountain Boot
Some of the advantages of the boot include:
The lower portion of the boot is made of rubber. This provides 100% waterproof protection. The rubber also makes the boot very easy to clean, especially if the boot is muddy.
The boot has an excellent insulation liner. The insulation consists of 200 gram Thinsulate insulation (more information about Winter Boot Insulation) that has a temperature rating of -25 degrees.
The boot has a lower cut than many other snow boots. While this is not good for deep snow, the low cut of the boot makes it more comfortable for day to day use and far easier to slip in and out of. If you need a higher cut boot, consider the Sorel Caribou or Sorel Conquest instead.
The Cold Mountain boot has a suede upper that is water-resistant, but NOT waterproof. The bad part, obviously, is that the upper part of the boot is not waterproof (so don't take it in deep snow or water). However, the suede makes the boot more comfortable to wear and also lightens the weight of the boot..
The multi-directional lug outsole provides excellent traction in slick, snowy and muddy conditions. The traction is nearly identical to what is found on quality hiking boots.
Reviews & Info About Other Sorel Winter Boots