Montana City Pictures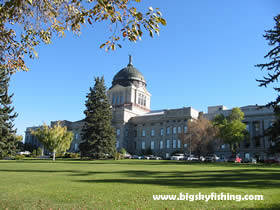 The Capitol Building in Helena
Montana, of course, has stunning landscape pictures. The mountains, prairie, lakes and "big sky" all combine to make for some memorable images.
Yet, the cities in Montana are often overlooked. As part of our new Montana Travel Guide section, I've put together a photo gallery that showcases the cities in Montana. These photographs are a great way for people who will be visiting any of the cities in Montana to become familiar with them before arriving.
For those interested, all pictures were taken by myself using a Canon A40 digital camera, without any fancy lenses or filters.
To begin viewing these Montana pictures and photos, simply select from one of the links below.
Montana City Pictures
Billings Pictures : Photographs of Billings, Montana
Bozeman Pictures : A few photos of Bozeman, Montana
Butte Pictures : Numerous photographs of unique Butte, Montana.
Great Falls Pictures : Photographs of Great Falls, Montana.
Helena Pictures : A gallery showcasing the state capitol, Helena.
Kalispell Pictures : Photos of my hometown, Kalispell.
Missoula Pictures : Images of the fast growing town of Missoula, Montana.
West Yellowstone Pictures : Photos of this very popular destination town.
Whitefish Pictures : Photographs of one of the nicest small towns in Montana.
---