Sunglasses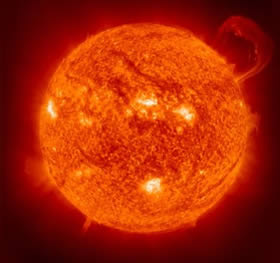 Don't Let the Sun Blind You on a Hike in Montana
Photo Courtesy of NASA
Sunglasses are indispensible for any sort of outdoor activity. Whether you are hiking, fishing, backpacking, biking or floating, a quality set of sunglasses does many things. First, sunglasses protect the eye from the sun's harmful rays (described below). Secondly, a good pair of sunglasses will also provide suberb protection from dirt, sand, snow and other "impacts" that have a tendency to find their way into your eyes during active outdoor activities.
Where to Find - And What to Get - in Sunglasses for Hiking & other Outdoor Sports
---
The Sun's Harmful Rays
As most people know, the Sun throws out many harmful rays that, over time, can lead to some serious eye problems. Since few people know about the exact type of rays, this section describes the types of rays that is produced by the Sun that are also harmful to the naked eye - especially over extended periods of time.

The Sun's Ultraviolet (UV) Rays : What They Are

UV Rays are ultraviolet rays emitted from the sun. While some wavelenghts of UV Rays are visible (such as "black light"), the harmful UV rays that are emitted from the sun - and which you need to worry about - are invisible. As such, UV Rays are sort of a silent, stealthy light ray that can cause serious damage to the eye over time.

There are three spectrums to UV Rays, the lower spectrum, the middle spectrum and the upper spectrum.

The lower spectrum consists of UVA Rays, which are probably the most "well known" of the Sun's ultraviolet radiation.

The middle spectrum consists of UVB Rays, which are more powerful - and harmful - than UVA Rays.

The upper spectrum, which consists of UVC Rays, are the most powerful of the Sun's UV light.
---
Blue Light
If the three UV spectrums from the sun are not enough of a problem, a person also needs to worry about Blue Light. Blue Light, which few people are familar with, are called High Energy Visible (HEV) Wavelenghs. Unlike UV Rays, HEV Rays are visible - on the upper end of the visible spectrum. Indeed, HEV Rays are responsible for allowing you to perceive the blue and purple colors.
Unfortunatley, too much exposure to Blue Light can, over time, lead to macular degeneration of the eye. While Blue Light is not as powerful as the Sun's UV Rays, it is still strong enough to cause damage over time.
Where to Find - And What to Get - in Sunglasses for Hiking & other Outdoor Sports
---
Copyright 2002-2013


Big Sky Fishing.Com
---