Teton Pass Ski Area : Review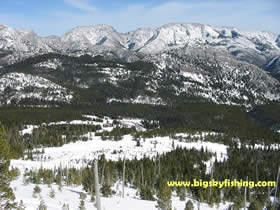 The view while skiing the glades at Teton Pass Ski Area
Teton Pass is a ski area seldom seen by people from outside of Montana. And that is not really surprising considering the areas very out of the way location along the Rocky Mountain Front. The nearest town to Teton Pass, Choteau, is also not known as a ski town – as it sits out in the prairie – about 15 miles east of the rugged but beautiful Rocky Mountain Front.
Yet, Teton Pass is one of the most enjoyable ski areas in Montana – at least when the weather is nice. Teton Pass has a nice variety of terrain and is very affordably priced. The views are fantastic at the ski area – and the drive up to the mountain from Choteau is an absolutely beautiful drive by any definition on a sunny day. And as far as crowds go, forget it, there basically aren't any.
Teton Pass Vital Statistics
| | |
| --- | --- |
| Snowfall : | 250 inches |
| Acres : | 110+ out-of-bounds |
| Vertical Feet : | 1000 ft |
| # of Lifts : | 1 double chair, 1 beginners lift |
| Terrain : | 25% Beginner, 35% Intermediate, 45% Expert |
Teton Pass ski area doesn't have the "killer vertical" those other ski areas in Montana and other better known resorts have. The lift served vertical at Teton Pass is only about 1000 feet. But, who cares? Basically, the skiing is good, the crowds are light (or non-existent) and the prices are right. As such, a skier, whether a beginner or expert, will have an enjoyable day of skiing at Teton Pass.
Like most ski areas in Montana, Teton Pass is a ski area – not a fancy resort. At Teton Pass, you won't find condos, apartments, gourmet dining or any of the other "slopeside" things which are commonly found at better known ski resorts.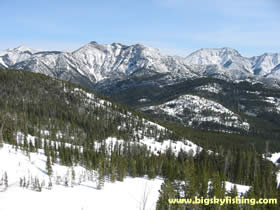 Mountains of the Rocky Mountain Fromt seen from the top of Teton Pass Ski Area
Indeed, the base area at Teton Pass ski area consists of a small parking lot, a tiny ski rental shop and a very nice little lodge. The base lodge itself is a great lodge – small, rustic and functional. The lodge also has a very nice bar and tavern inside it too – making for a fine place to pass the time away while you rest your legs after an energetic day of skiing.
Well, that's enough talk about the base area and the beautiful location that Teton Pass finds itself in. Let's get going and explore about what really counts – the skiing.

Next Page : Skiing Teton Pass
---