Discovery Ski Area : Review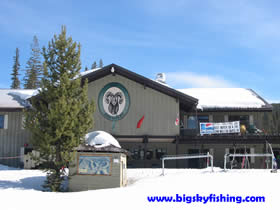 Discovery Ski Area Lodge
Discovery Ski Area is Montana's finest skiing secret. Lying in the heart of Montana in a scenic and secluded setting near Georgetown Lake, Discovery Ski Area has superb skiing for all levels of skiers. Whether you are an expert skier or just starting out, Discovery Ski Area has a wonderful mix of terrain that can keep anyone happily occupied for an entire day of skiing.
Discovery Vital Statistics
| | |
| --- | --- |
| Snowfall : | 210 inches |
| Acres : | 548 |
| Vertical Feet : | 1670 ft. |
| # of Lifts : | 3 triples, 3 doubles. |
| Terrain : | 20% Beginner, 25% Intermediate, 25% Advanced, 30% Expert |
Discovery Ski Area is built on a moderate sized mountain known as Rumsey Mountain, which has a top elevation of 8150 ft. Discovery doesn't get pounded by huge amounts of snow each year, averaging around 210 inches generally. However, while Discovery may not get buried under mounds of snow, the snow that it does receive tends to stick around. The high base elevation of Discovery Ski Area (6480 feet) along with its location in a known "cold pocket" of Montana (Georgetown Lake), inhibits melting in comparison to other ski areas in Montana. Additionally, as the ski area it located on the west side of the continental divide, Discovery isn't as plagued by high winds and blowing snow like other Montana ski areas can be.
Discovery, like most other ski areas in Montana, is a ski area – not a resort. What this means is that there are no slope side lodging, fancy restaurants, condos or hotels. In short, it is just a place to go skiing, with the only buildings being a very nice and functional base lodge. Additionally, while Discovery may lack the killer vertical and snowfall that other bigger name Montana ski areas have, it more than makes up for it in killer terrain diversity.
For those who have never heard of Discovery before, the ski area is located just off of Highway 1, which is also known as the Pintlar Scenic Highway. The ski area itself is sort of located out in the middle of nowhere, although two major cities, Missoula and Butte, are located within fairly easy driving range. Missoula is located about 95 miles away to the west, while Butte is 45 miles to the southeast. The closest towns to Discovery Ski Area are Anaconda (25 miles to the east) and Phillipsburg (25 miles to the northwest).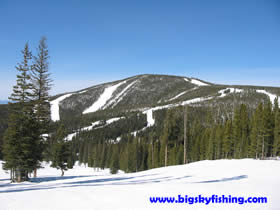 View of Discovery Ski Area seen from a trail on Jubilee Peak
Getting to Discovery Ski Area is pretty straight forward. Just hop onto Highway 1 and look for the signs in Georgetown Lake. The town itself is impossible to miss since the road and town lay right along the shores of beautiful Georgetown Lake. From Georgetown Lake, just follow the signs to the ski area, which is about 5 miles from town.
While getting to Discovery is pretty simple, here are a few things to keep in mind about the roads which lead up to the ski area. First, the road from Georgetown Lake to the ski area turns to gravel and can be a bit muddy and/or slippery at times. Secondly, keep in mind that Highway 1 gains some pretty significant elevation, especially if you are coming to the ski area from the west (Missoula and Phillipsburg). The road is generally well plowed but does have a pretty steep gradient a times and many, many turns. During snowy or slick weather, allow extra time to reach the ski area as well as exercise a bit more caution than one normally would.
Well, that's enough about the facilities and how to get to Discovery. Let's move on and talk about the excellent skiing that Discovery has.
See an Aerial View of Discovery Ski Area (large image)

Next Page : Skiing the Front Side of Discovery
---
Web Resources


Ski Discovery Home Page


Downhill Ski Gear with Free Shipping at BackcountryStore.com.

Free Shipping On Snowboard Gear at BackcountryStore.com