Missouri River Recreation Road Scenic Byway
Usually, a road that closely follows an Interstate highway for twenty-four miles is not likely a road that most people would consider scenic. Of course, every rule has an exception. In Montana, that exception is located between Helena and Great Falls, where a road called Recreation Road closely follows the blue-ribbon waters of the Missouri River.
Now I'll admit, the Missouri River Recreation Road Scenic Byway won't be making anyone's top 10 list of scenic drives in Montana. Indeed, I was somewhat hesitant about even putting up information about this drive, since the scenery isn't superb. Moreover, the area the route passes through an area that during a summer weekend plays host to a swarm of people who are out enjoying the waters of the Missouri River in one way or another.
Yet here the drive is on my website. And at the end of the day, the reason I included this particular drive is because, well, it's fun! The route is also offers a nice break from the tedium of slogging down Interstate 15. The slower speeds and closer access to the Missouri River also provide views not seen from the Interstate.
But truthfully, it's simply the fun of this road that makes it worthwhile to do. Admittedly, your version of fun might be different from mine, and if that is so then this scenic byway might not have your name on it.
For those who see trout in their sleep, however, or those who enjoy watching a parade of floaters in boats, rafts, inner-tubes and bathtubs make their way down river, then this scenic byway is well worth visiting. Besides, even if you find the drive less than awe-inspiring, driving this scenic detour only adds on about a half hour to a trip down the Interstate. So what do you have to lose?
Visitors can begin the Missouri River Recreation Road Scenic Byway at either Wolf Creek (Exit 226 on the Interstate) or at Hardy (Exit 247). Regardless, the route is paved for the entire distance, trailers are allowed and the road is in fine condition except during the middle of a Montana snowstorm.
Beginning in Wolf Creek, the byway wastes no time in making a beeline for the Missouri River, which it soon reaches at Wolf Creek Bridge Fishing Access Site. This fishing access site is the most popular launch spot for float and fishing trips down the Missouri River. During summer weekends, or when the hatch is on, this parking lot can resemble a New York City parking garage, albeit one full of dusty and bug-splattered pickup trucks pulling trailers.
After crossing the bridge, the scenic byway heads north (to the left). For the adventurous or those in search of prime fishing or a nice camping site, you can also turn right and head toward Holter Dam and Holter Lake.
As the byway heads north, winding through a series of open fields, it reaches a road junction that leads to the awesome town of Craig, Montana. Why is Craig awesome? Well, it's hard to find fault with a town that consists of fly fishing stuff and little else! If you're in this part of Montana on a fishing trip, do stop in Craig. Just be sure to hide your wallet when wandering around town. Craig also has a motel whose inhabitants consist almost exclusively of anglers.
Beyond Craig, the scenic byway twists and turns, closely following the Missouri River. Numerous pullover spots, along with several designated fishing access areas, allow excellent access to the Missouri River. I personally always enjoy the spectacle of dozens of "things that float" lazily plying down the river.
After passing underneath the Interstate a few times, the byway reaches where the Dearborn River meets the Missouri River. Soon after that, the byway begins to curve through a scenic, narrow canyon, temporarily leaving the Interstate behind. After crossing the river, the scenic byway ends at the junction with Interstate 15, three miles from Hardy.
Overall, the Missouri River Recreation Road Scenic Byway isn't the most scenic of drives in Montana. Instead, the road is simply fun to drive, as it twists and turns while following the attractive and fun waters of the Missouri River. Moreover, the slower speeds of the drive along the byway compared to the Interstate allow the visitor to better take in the unique views offered in this part of Montana. So if you're in this area of Montana, take this scenic byway. After all, what have you got to lose but a little bit of time?
Quick Facts
Length: 24 miles
Highlights : Missouri River, Dearborn River
Road Type : Paved
Nearby Towns : Wolf Creek, Craig, Hardy, Helena
4wd needed? : No
Traffic : Moderate
Trailers? : Yes
Season : Year-round
Map of the Missouri River Recreation Road Scenic Byway
The map below shows the route and location of the Missouri River Recreation Road Scenic Byway in Central Montana.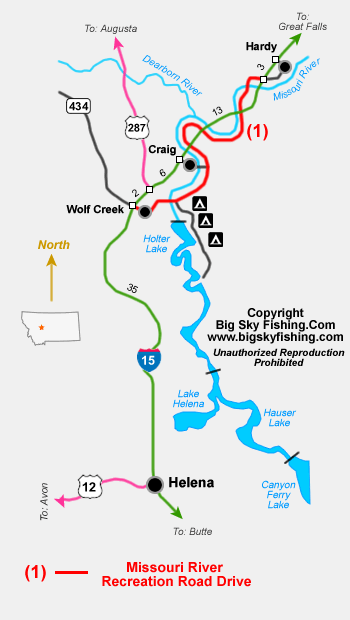 Topographical Map Books
| | |
| --- | --- |
| | Montana Benchmark Atlas : No other map product can better portray Montana's rugged peaks, majestic rivers, and expansive plains. Large-scale Landscape MapsTM and a complete 30-page Recreation Guide make it the ideal planning tool for any outdoor adventure. More Info |
Where to Stay & Other Services
There are plenty of services along the route. Gas and other supplies can be picked up in Wolf Creek and Craig. Additionally, Craig has a motel that pretty much caters exclusively to the fly fisherman called the CrossCurrents Fly Shop and Motel. Several other fishing lodges are also located along the drive, too.
Those seeking a "less fishing related" spots to stay will find plenty of hotels in Helena.
Related Articles & Information
| | |
| --- | --- |
| Copyright 2002 - 2013 Big Sky Fishing.Com | |