Western Hats from Orvis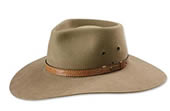 Orvis probably isn't the first place you think of when it comes to Western style hats, as Orvis is more known for country-style clothing and fly fishing equipment. Yet, buried on their site is a nice and fairly large selection of high-quality western hats. Moreover, their hats not only look nice, but are highly functional. Whether you are looking for a hat that will help keep you warm while out wading a Montana river on a chilly day, or a hat that will just keep you cooler while outdoors ona sunny day, Orvis likely has a western style hat that will meet your needs.
Please note, prices are subject to change. Use prices as a guide only.

---
Copyright 2002-2013


Big Sky Fishing.Com
---