Keen Newport H2 Water Sandal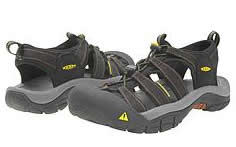 The Keen Newport H2 Water Sandal - An excellent sandal for active watersports, available for both Men and Women
I'll be honest. I haven't been very impressed with most water sandals out there - at least if you like to engage in active water sports activities. The reason? Simple - most water sandals just don't provide the necessary protection for the front or top of the foot. And the traction provided by too many water sandals is, shall we say, a bit "lacking."
The Keen Newport H2 Water Sandal, however, is different. In many ways, this handy little sandal is a cross between a sandal and a water shoe. It looks primarily like a water sandal, but shares the foot protection characteristics of a water shoe.
So, if you are leery about the lack of foot protection that most water sandals provide (and if you've dropped something on your foot while boating you know what I mean), but aren't impressed with a typical water shoe either (as they aren't as quick drying as sandals are) - then give the Keen Newport H2 Water Sandal a good look. It is highly functional, very durable and works perfectly for virtually all active watersports activities you'll likely to ever engage in.
---
Styles Available
All styles of the Keen Newport H2 Water Sandal shown below are available for purchase through Zappos. Zappos provides free shipping on all orders and has a huge selection of footwear.
Price - The Keen Newport H2 Water Sandal is not the cheapest of sandals around. It retails generally for over $100, which is quite a bit more than your typical water sandal costs. However, you get what you pay for here. Moreover, Zappos usually sells them for around $90 - $95 or so.
---
Advantages of the Keen Newport H2 Water Sandal
The Keen Newport H2 is an excellent water sandal for active watersports for a number of reasons.
Full Front Toe Protection - The Keen Newport H2 has a superb toe guard, which is really more like what is found on a typical shoe. Because of this, there is no worry about bashing your foot into underwater obstructions.
Decent Top of the Foot Protection - Due to the construction of this sandal, the Keen Newport H2 provides significantly more top of the foot proection than does a typical water sandal. While the protection isn't quite as good as what is found on a water shoe, it is, realistically, more than enough for most active watersports activities.
Excellent Traction - As the Keen Newport H2 has been designed specifically for watersports, the sandal has very good traction on rocks and slippery surfaces. While it won't compare to a wading boot (that has a felt sole), the sandal is far superior in terms of traction than a typical sneaker or "at home" type sandal is.
No Mold - The sandal has no leather or other materials in it that will get moldy. As such, you don't have to worry about the sandal falling apart due to mold eating away the fabric and seams.
Superb Bottom Foot Protection - Have you ever walked on sharp, pointy rocks with thin soled sneakers? It hurts, doesn't it. This sandal has been designed to get rid of that problem by having a very thick sole. This not only provides better traction, but eliminates sharp, protruding rocks from sticking up into the bottom of your foot.
---
Basic Information
Lower Sandal Construction : Non marking lugged, rubber sole. Solid traction on slippery surfaces.
Upper Sandal Construction : No leather. 100% synthetic. Elastic closure for quick and easy entry/exist from sandal.
Weight : 11 ounces
Sizes Available : For Men (7-14), For Women (5-11). Both Half and Whole Sizes.
---
Purchasing Options
The Keen Newport H2 Sandal is available through Zappos.
---
Copyright 2002-2015


Big Sky Fishing.Com
---