Sorel Cold Mountain Boot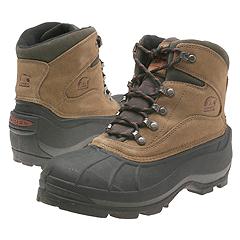 The Sorel Cold Mountain Boot
The Sorel Cold Mountain Boot is a great all-around snow boot. Like other Sorel boots, this boot has a full 100% rubber bottom - meaning that it is exceptionally easy to clean and 100% waterproof.
However, unlike some other Sorel boots, this boot is not a tall boat - in that it does not extend way above the ankle. Additionally, the boot is cut relatively low on the ankle. What this means is that the Cold Mountain boot is not the best boot to be used in deep snow since snow will be able to enter the boot around the ankle. However, the low-cut of the of it makes it much more comfortable for day to day wear and also significantly easier to get into (especially in comparison to the Sorel Conquest Boot).
Overall, I really like the Sorel Cold Mountain Boot. It is very comofortable for day to day use, 100% waterproof and is in general just a perfect boot to be used in muddy, slushy conditions. Just don't use it in deep snow or where there is the possibility of ending up in relatively deep water.
---
Styles Available
All styles of the Sorel Cold Mountain boots shown below are available for purchase through Zappos. Zappos provides free shipping on all orders and has a huge selection of footwear. Why buy Boots at Zappos?
Prices : Generally, the Cold Mountain Boot retails for around $90, making it one of the more affordable Sorel's around. Usually Zappos has them for around $80 or less. And, if you want a very good deal, wait till the end of winter - the prices of this boot can plummet to less than $45, although popular sizes can be very difficult to obtain.

---
Advantages of the Sorel Cold Mountain Boot
These boots are excellent, all-around winter boots for several reasons.
First, the lower portion of the boot is made of rubber. This provides 100% waterproof protection. The rubber also makes the boot very easy to clean, especially if the boot is muddy.
Second, the boot has an excellent insulation liner. The insulation consists of 200 gram Thinsulate insulation (more information about Winter Boot Insulation) that has a temperature rating of -25 degrees.
Third, the boot has a very low cut. While this is not good for deep snow, the low cut of the boot makes it more comfortable for day to day use and far easier to slip in and out of. If you need a higher cut boot, consider the Sorel Caribou Boot instead.
Fourth, the Cold Mountain boot has a suede upper that is water-resistant, but NOT waterproof. The bad part, obviously, is that the upper part of the boot is not waterproof (so don't take it in deep snow or water). However, the suede makes the boot more comfortable to wear and also lightens the weight of the boot.
---
Sorel Cold Mountain Boot - Basic Information
Temperature Rating : - 25 degrees
Lower Boot Construction : Handcrafted waterproof vulcanized rubber shell.
Upper Boot Construction : Water Resistant Suede.
Snow Cuff : No.
Sizes Available : For Men (7-15), For Women (5-11). Both Half and Whole Sizes.
Replaceable Liner? : No
---
Purchasing Options
The Sorel Cold Mountain boot is available through Zappos.
---
Copyright 2002-2014


Big Sky Fishing.Com
---