Orvis TLS Power Matrix Fly Rods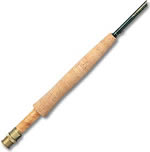 The TLS Power Matrix gives you more power and precision in a rod built with lighter materials, plus its special compound tapering means you get just the right amount of power where it's needed and just the right amount of forgiveness and flex where it's needed.
The TLS series fly rods are very versatile. Models available come in a very wide variety of rod lengths, pieces and action (both medium and fast action are available).
Orvis TLS fly rods provide a number of benefits :
Lightweight : While not quite as light as the Orvis T3 fly rod, the Orvis TLS fly rods weigh only 20% more. For their price, though, Orvis TLS fly rods are among the lightest fly rods in the world in their price range.
Quality Design : While much more affordable than the Orvis T3 fly rod, the Orvis TLS fly rod is made to exacting standards. All components are of the highest quality.
25 year unconditional guarantee : Like all Orvis fly rods, the Orvis TLS fly rod come with a 25 year unconditional guarantee against breakage and workmanship.
Versatility : The wide selection in models available for the Orvis TLS series fly rods make them ideal for all fly fishing conditions.
Who is the Orvis Trident TLS fly rod for? Anglers who are on a budget but require a high quality, versatile fly rod will be most pleased with the TLS series by Orvis. These fly rods are nearly as light as the Orvis T3 fly rods, but cost significantly less. The Orvis Trident TLS fly rods are perfect for beginner and intermediate anglers.
Unsure of what type of fly rod to get? Then read our Buyers Guide to Fly Rods for helpful information on things to look for when shopping around for one. All of the fly rods below are available for purchase direct through Orvis.
Orvis TLS Power Matrix Series Fly Rods
The TLS Series fly rods through Orvis come in a wide variety of lengths and actions, all at reasonable prices. As such, they are the most versatile fly rod Orvis has.
Note : Here's how to decipher the product name below, so you know the specs of the fly rod just by the name. An example of a typical product name is : Orvis TLS Power Matrix 704-4
The first two numbers, in this case 70, refer to the length of the rod. Thus, this rod is 7 feet, 0 inches long. The third number, 4, refers to the weight of the rod (what is fly rod weight?). And the final number after the dash, 4, refers to how many pieces the rod is.
For rods with 4 numbers before the dash (example - TLS Power Matrix 7114-4), the product name indicates the rod is 7 feet 11 inches long, is a 4 weight rod, and comes in 4 pieces. Simple, huh?
Please note, prices are subject to change. Use prices as a guide only.
---
Copyright 2002-2015


Big Sky Fishing.Com
---