Orvis Hydros Fly Rods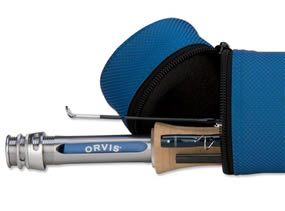 Orvis Hydros Rods are excellent general purpose and all-around fly rods. They are available in a wide variety of lengths. Both mid-flex and tip-flex rods are also available (new/intermediate anglers should use a mid-flex rod for fishing in Montana). For anglers looking for a general purpose fly rod that will fish well in a wide variety of conditions, the Orvis Hydros rods are an excellent choice.
Advantages of an Orvis Hydros Fly Rods include :
Mid-Flex and Tip-Flex Action : For general trout fishing, it's tough to beat a mid-flex rod. For Montana, a mid-flex rod allows the anglers to fish well pretty most everywhere.
Wide Variety of Uses : The Orvis Superfine fly rods have been designed to protect the light tippets when fly fishing with light fly fishing gear.
Lightweight : The Hydros rods are exceptionally lightweight, reducing casting fatigue and in general just making them more enjoyable to use.
Who is the Orvis Hydros fly rod for? Anglers who want a general purpose fly rod that will perform well in a wide variety of waters. For new and intermediate anglers looking for a general trout rod, considering going with a 8 - 9 foot mix-flex rod (8 feet 6 inches is ideal).
Unsure of what type of fly rod to get? Then read our Buyers Guide to Fly Rods for helpful information on things to look for when shopping around for one.
Orvis Hydros Series Fly Rods
All of the fly rods below are available for purchase direct through Orvis. To purchase any of these fly rods or to get additional informaton, just click on any of the links. Please use prices as a guideline only, as they are subject to change.
Note : Here's how to decipher the product name below, so you know the specs of the fly rod just by the name. An example of a typical product name is : Orvis Hydros 864-4
The first two numbers, in this case 86, refer to the length of the rod. Thus, this rod is 8 feet, 6 inches long. The third number, 4, refers to the weight of the rod (what is fly rod weight?). And the final number after the dash, 4, refers to how many pieces the rod is.
Thus, a rod with a product name of Hydros 905-4 indicates the rod is 9 feet 0 inches long, is a 5 weight rod, and comes in 4 pieces. Simple, huh?
Please note, prices are subject to change. Use prices as a guide only.
---
Copyright 2002-2013


Big Sky Fishing.Com
---