Orvis Helios Fly Rods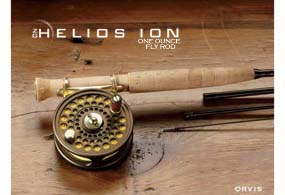 The Helios fly rods are one of the newest models of fly rods, and have quickly become popular. They are considered one of the finest fly rods available, and are ideal for the demanding angler who desires pin-point accuracy and extremely lightweight.
Orvis Helios rods are not inexpensive...cost over $700, depending on the style chosen. But, for the money, you get one of the finest, most accurate fly rods made. Some of the benefits of the Helios fly rod series include:
Medium Action : The rod is still forgiving, making it usable for intermediate anglers.
Sensitivity : Despite the medium-action, the Helios series are extremely sensitive.
Lightweight : You'll have a hard time finding a fly rod that weighs less than the Helios series. This lightweight reduces casting fatigue.
25 year unconditional guarantee against breakage and workmanship. Unusual to see affordable rods like this having a full guarantee on them.
Personalization Options - The angler can personalize this rod with an engraving should they so choose.
Extremely Strong - Despite being mid-action, this fly rod is very strong and can make long-casts well, including in windy conditions.
Who is the Orvis Helios Series Fly rod For?
The Helios series fly rod is not meant for beginners. Instead, it's meant for intermediate anglers who require sensitivity, power, lightweight and precision in an all-around mid-flex fly rod. Advanced anglers will also appreciate the finer touches found on the Helios series rods.
Still unsure of what type of fly rod to get? Then read our Buyers Guide to Fly Rods for helpful information on things to look for when shopping around for one.
Note : Here's how to decipher the product name below, so you know the specs of the fly rod just by the name. An example of a typical product name is : Orvis Helios 763-4
The first two numbers, in this case 76, refer to the length of the rod. Thus, this rod is 7 feet, 6 inches long. The third number, 3, refers to the weight of the rod (what is fly rod weight?). And the final number after the dash, 4, refers to how many pieces the rod is.
Thus, a rod labelled Helios 842-4, means the rod is 8 feet 4 inches long, is a 2 weight rod, and comes in 4 pieces. Simple, huh?
---
Copyright 2002-2013


Big Sky Fishing.Com
---