Orvis 'Frequent Flyer' Fly Rods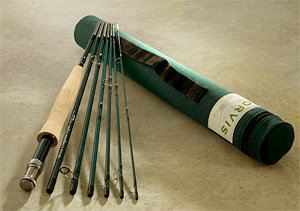 As the name suggests, the Orvis Frequent Flyer series of fly rods are designed for the frequent flyer. They are designed so as to be able to fit in the carry-on bin when flying.
All the fly rods in this series are seven-piece rods, allowing them to pack down into a tiny, little package that will easily slip into virtually any carry-on piece of luggage.
Despite these rods being in seven-pieces, the Frequent Flyer rods are surprisingly stiff...as they are either mid-flex or tip-flex fly rods.
So, who are these rods for? If you carry-on your luggage, then these fly rods have your name on it. However, do keep in mind that many other fly rods break down into four-pieces, allowing them to be easily carried as normal check-in luggage. Thus, before buying a rod from this series, determine whether or not you require your rod to come on the plane with you.
The other type of person this fly rod is ideal for...and I personally think it's the biggest advantage this rod series offers...is for the backcountry traveler. As the rod breaks down into such a tiny package and is lightweight, this rod is ideal for packing into the backcountry...as it will slip inside any size backpack (even a small daypack). And as these rods cost $200 or less, it's hard to argue with the price, considering the quality of these rods.
These rods are also good for new anglers, as they are quite forgiving and their mid-flex action allows these rods to be adequately used in a wide-range of conditions.
Unsure of what type of fly rod to get? Then read our Buyers Guide to Fly Rods for helpful information on things to look for when shopping around for one.
All of the fly rods below are available for purchase direct through Orvis.
Orvis Frequent Flyer Rods
These rods are ideal for use in the backcountry, as being seven-pieces, they pack down into a tiny package that can easily be carried in any size backpack. Frequent fliers who carry-on their baggage will also appreciate this rods versatility. Click on any of the links for more information and a larger photograph.
Note : Here's how to decipher the product name below, so you know the specs of the fly rod just by the name. An example of a typical product name is : Orvis Frequent Flyer 865-7
The first two numbers, in this case 86, refer to the length of the rod. Thus, this rod is 8 feet, 6 inches long. The third number, 5, refers to the weight of the rod (what is fly rod weight?). And the final number after the dash, 7, refers to how many pieces the rod is.
Thus, a rod labelled Frequent Flyer 863-7, means the rod is 8 feet 6 inches long, is a 3 weight rod, and comes in 7 pieces. Simple, huh?
Please note, prices are subject to change. Use prices as a guide only.
---
Copyright 2002-2013


Big Sky Fishing.Com
---